Bewildering Stories'
Annual Review, 2014
Year 13 of Bewildering Stories
The Mariner Awards: issues 555-601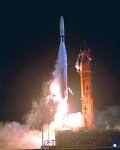 The launch of Mariner 2
to Venus, August 27, 1962
The Mariner Awards are named for one of the first successful interplanetary missions.
The 40 titles listed — out of 304 for the year — are the ones that the Review Board has rated most highly in 2014. They have earned
Bewildering Stories'
most signal honor.
We know that all readers can cite other titles they feel belong on these lists; fair enough. Please write and tell us what else you would include and, most importantly, why. But we are also confident you'll find none you would omit.
Like the Quarterly Reviews, the Annual Review lists titles alphabetically by author and multiple titles in chronological order. The Departments remain in the Quarterly Reviews.
We resume regular publication with issue 602 on January 5, 2015. Meanwhile, as we like to say, "There is no story so truly bewildering as reality." The Crew of Bewildering Stories wishes our contributors and readers a most pleasantly bewildering New Year!
Everything in green is a link. Links open in a new window, so you won't lose your place.
Novels

Sherman Smith, Two Blind Men and a Fool

Serials

LaKimbra McKinley, Hold on to My Feets
Danielle L. Parker, The Deathless Hand

Short Stories

Kalliroe Agelopoulou, When Cars Grew Taller
Dana Beehr,
Ambry Silverstrings and the Gator King
Gary Clifton Lonely Planet
Diana Corbitt, Night Games
Jörn Grote, Home, to the Sea
Thomas E. Lange, A Vicar's Baptism
Don Liddick, Mewly Bob
Mike Madison, Distinction in the Darkness
Mike McNichols, I Shot Sonny Battalion
Mia Tijam,
What the Children of Muerta Caxerex Say
LaVerne Zocco, Dolores Metcalf, Comforter

Flash Fiction

Charles C. Cole JD DeHart, Begets

Drama

Charles C. Cole,
The Platonic Friends Society

Poetry & Short Poetry

Oonah V. Joslin Sea Geese
John Stocks My Doppelganger
Thomas F. Wylie, The Empty Seat

Essays & Memoirs
The Quarterly Reviews of 2014
Editors' Choices, Years 1-13
The Annual Reviews, Quarterly Reviews, and Semi-Annual Retrospectives
Return to top
Go to issue 601
Go to the All Issues index
Go to the Schedule "In Times to Come"
Available at Bewildering Press
Jack Alcott, Grim Legion
Sam Ivey, Gilboy's Quest
Martin Kerharo, The Dohani War
Harry Lang, The Mountains of the Eldritch Sea
Danielle L. Parker, In a Pig's Eye
Slawomir Rapala, Aezubah, the Crimson General
Bertrand Cayzac, Floozman in Space
Michael E. Lloyd, Donna's Men
Michael E. Lloyd, Missing Emilie
Michael E. Lloyd, Observation One
Michael E. Lloyd, Observation Two
Michael E. Lloyd, Observation Three

Copyright © December 29, 2014 by Bewildering Stories