Bewildering Stories'
Annual Review, 2017
Year 16 of Bewildering Stories
The Mariner Awards: issues 696-742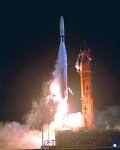 The launch of Mariner 2
to Venus, August 27, 1962
The Mariner Awards are named for one of the first successful interplanetary missions.
The 51 titles listed — out of 340 for the year — are the ones that the Review Board has rated most highly in 2017. They have earned Bewildering Stories' most signal honor.
We know that all readers can cite other titles they feel belong on these lists; fair enough. Please write and tell us what else you would include and, most importantly, why. Discussions are welcome at Bewildering Stories.
Like the Quarterly Reviews, the Annual Review lists titles alphabetically by author and multiple titles in chronological order. The year was enlivened by thoughtful discussions. However, the Departments remain in the Quarterly Reviews and are easily accessible.
We resume regular publication with issue 743 on January 1, 2018. Meanwhile, as we like to say, "There is no story so truly bewildering as reality." The Crew of Bewildering Stories wishes our contributors and readers a most pleasantly Bewildering New Year!
Everything in green is a link. Links open in a new window, so you won't lose your place.
Novels

Gary Clifton, The Dead Bin
Bill Kowaleski, Living Standards

Novellas

Bill Prindle, Somewhere Beyond the Sea

Serials

Short Stories

Edward Ahern, The Purloined Oil
Matthew F. Amati, Defender of the Flesh
Dana Beehr,
Ambry Silverstrings and Walkin' Pete
Mar Na Carter, Fly, Bird, Fly
Charles G. Chettiar, The Cracked Ball
Gary Clifton
Rob Dinsmoor, The World in Gunnar's Barn
Patrick Doerksen, There Will Be No Puppy
Ada Fetters, TradeWinds
Ken Goldman, Busy Old Fool, Unruly Sun
Ahmed A. Khayyat, Do You Wish To Proceed?
Harry Lang, Down to the Wild Blue Yonder
Stuart North, To Free a Ghost
Anna O'Brien, The Data Eaters
Nick Pipitone, City of Dogs
Ljubo Popovich, Eve in the Belly of the Whale
Bill Prindle, Cat With a Young Woman
Hayleigh Santra, The Young Cloudmaker
R. W. Warwick, Troubleshooting
Your Deathtec Megaton Death Ray

Flash Fiction

Gary Clifton, Home Free
Charles C. Cole What Good Is Arithmetic?

Drama

Charles C. Cole

Poetry & Short Poetry

Mike Acker, Late Evening Walk
Edward Ahern
I, Too, Shall Anoint the Stones
Crystalwizard, Autumn's Art
Stephen Ellams, The Art of Letting Go
Karin S. Heigl, Wicked Honey
Oonah V. Joslin, Men of Passchendaele
Anna Ruiz, Euclid Avenue
Marjorie Sadin, Autumn Passion

Essays & Memoirs
The Quarterly Reviews of 2017
Editors' Choices, Year 1 to the present
The Annual Reviews, Quarterly Reviews, and Retrospectives
Return to top
Go to issue 742
Go to the All Issues index
Go to the Schedule "In Times to Come"
Available at Bewildering Press
Jack Alcott, Grim Legion
Sam Ivey, Gilboy's Quest
Martin Kerharo, The Dohani War
Harry Lang, The Mountains of the Eldritch Sea
Danielle L. Parker, In a Pig's Eye
Slawomir Rapala, Aezubah, the Crimson General
Bertrand Cayzac, Floozman in Space
Michael E. Lloyd, Donna's Men
Michael E. Lloyd, Missing Emilie
Michael E. Lloyd, Observation One
Michael E. Lloyd, Observation Two
Michael E. Lloyd, Observation Three

Copyright © December 25, 2017 by Bewildering Stories