Men of Passchendaele
by Oonah V. Joslin
See, the flood flows under a crazy moon
and warps the planks we laid across the mud.
Eyes loom perpetual, watery in the gloom
beneath the stars amid the smell of blood.
Tree stumps like empty signposts yield
nothing but stand like sentries at hell's door.
Entrenched, abandoned in the field
our hopes that wars should be no more.
We trample the knowledge that death is unkind.
Life is the next cigarette and a hard-won mile.
Impervious now to shellfire, eyes forever blind
meet ours that cannot weep and cannot smile.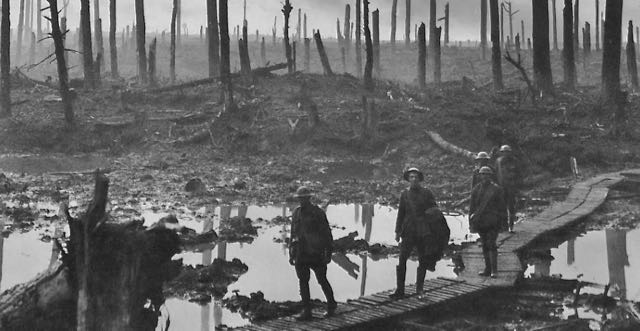 Copyright © 2017 by Oonah V. Joslin
[Editor's note] Battles and wars mark turning points in history, sometimes expectedly, sometimes not. For example, Canada has, arguably, two national holidays: Canada Day, on July 1, and Remembrance Day, on November 11. The participation of Canadian troops in the battles of Vimy Ridge (April 1917) and Passchendaele (July to November 1917) marked the emerging perception of Canada as a nation in its own right rather than as merely a former British colony.