Bewildering Stories'
Third Quarterly Review, 2017
Year 16 of Bewildering Stories
The Editors' Choices in issues 719-730
The Quarterly and Annual Reviews and Bewildering Stories itself
are like lighthouses on the chaotic sea of the Internet.
They signal not danger but "Good landfall" and "Safe harbor."
Welcome ashore!
Everything in green is a link. A few links are standard (blue, underlined). The genres in the "Titles selected" table are anchor or alert links. Links to pages other than the QR open in a new window; you won't lose your place.
"A good word goes a long way." — Bewildering Stories motto
On behalf of our Editors, especially our Associate Editors or review readers, Bewildering Stories thanks the many contributors who have sent expressions of gratitude for our feedback and interaction. As one author said, "We feel we're part of the process." You're telling us we're on the right track. Thank you, and keep up the good work!
---
Bewildering Stories ends the season — summer or winter, depending on your hemisphere — with the Review Editors' selection of favorites from the third quarter of 2017. New readers will have easy access to the recent best of Bewildering Stories, and veteran readers will have a chance to catch up on anything they may have missed.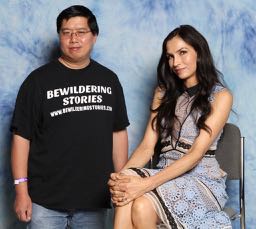 BwS
artist and photographer
Richard Ong with
Famke Janssen
Toronto Fan Expo 23, Sept. 2, 2017
The Quarterly Reviews are not a contest, competition or poll. And there are no quotas: anything — from everything to nothing — may qualify in any genre. Rather, they answer a practical question: "If a friend asked you to recommend something outstanding from the past quarter of Bewildering Stories, what are your favorites? What would you choose?"
As always, the Review Board's discussions have been extensive and lively. A big Thank You to Edward Ahern, Bill Bowler, Gary Clifton, Charles C. Cole, Ada Fetters, Gary Inbinder, Bill Kowaleski, Marina J. Neary, John Stocks and Lewayne L. White.
At Bewildering Stories, nothing is the proverbial tree falling unheard in a forest. All contributors know that real people have given their works a thoughtful reading, regardless whether we send regrets or they qualify for the Mariner Awards.
The Review Editors and Associate Editors — our review readers — have functions that are entirely different but equally important. The Review Editors determine how Bewildering Stories shall carry its flag. The Associate Editors determine what Bewildering Stories shall be. Their insightful and detailed critiques of submissions help us set what we like to think is an Internet standard for editorial practice and for service to our contributors and readers.
Our special editors also deserve a vote of thanks: Coordinating Editors Edward Ahern, Ada Fetters, and Bill Kowaleski; Flash Fiction and Drama editor Charles C. Cole; Poetry editor John Stocks; and Reviews editor Alison McBain. They provide the kind of personal touch Bewildering Stories takes pride in, and they make the administrative work not only easier but possible.
The Quarterly News
In the past 12 weeks, the Review Editors cast 784 votes on 82 titles, 33 of which have qualified as Editors' Choices. We congratulate the authors represented here. We hope they will inspire all our contributors.
We think our Review Editors reflect the range of opinion to be found among our readers.
The Order of the Hot Potato
is radioactive, with 21 titles.
The Order of Merit
is a special acknowledgment to our contributors. It's a kind of "surprise package" that links to the most highly rated works in this Quarterly Review.
We resume regular publication with issue 731 on September 25, 2017.
Serialized works are eligible only in the quarter in which they conclude.
All selections are listed in alphabetical order by author unless noted otherwise.
Multiple titles and the Departments are listed in chronological order.
Novels

Bill Kowaleski, Living Standards

Serials

Michael Díaz Feito, The Relic-Mongers
Bryon L. Havranek, The Magnificent Timepiece

Short Stories

Dana Beehr, Ambry Silverstrings and Walkin' Pete
David Castlewitz, Blitz Kings Minder
Gary Clifton Safe as Houses
Ken Goldman, Busy Old Fool, Unruly Sun
A. A. Khayyat, Do You Wish to Proceed?
Walter Kwiatkowski, The Dryers Are in Use
Ljubo Popovich, Eve in the Belly of the Whale
Hayleigh Santra, The Young Cloudmaker
Sjoerd van Wijk, Happy Tenth

Drama

Charles C. Cole, Wet Coriander

Flash Fiction

Gary Clifton, Happy Jack
Charles C. Cole, The Last Day of The Ugly Man
Channie Greenberg, Precious' Grandma
Ásgrímur Hartmannsson, A Wanton Display of Skill
Ronald Linson, The Preservation of Death

Poetry

David Adès, Taken by Stealth
Stephen Ellams Daddy's Little Girl
Scott E. Green & Herb Kauderer, War Games
Karin S. Heigl, Wicked Honey

Short Poetry

Edward Ahern, Yard Party
Herb Kauderer, Watches
Fabrice B. Poussin, Dante Dream

Essays & Memoirs

Behrang Foroughi, Manhattan in the Rain
Charles B. Pettis, How I Learned to Love the Internet
Don Webb, First Contact in a Coffee Cup

Departments

Book Reviews | Music Reviews

Challenges

Overhearing Wins and Losses
Coats of Many Colors
Time's Up
Unintended Consequences
Jonah's Counterpart
Pop Those Bottles

Discussions

A Story's Origins on a Timeless Coast
The Early Days of E-Mail
What Are You Doing?
The Curiosity Gene
Opening the Dead Bin
Cricket on the Road
Midnight Engineering
The Gorilla Suit
Naitmeirz on Speling Street
Spelling Chastely
Busy Old Fool

The Order of the Hot Potato

Here are the most controversial works of the quarter, the ones on which the Review Editors' opinions diverged significantly for one reason or another. The titles are listed in descending order with the most controversial first. Two-thirds of the titles appear among the Editors' Choices. Challenge to the readers: why might any of these titles be on the list? Discussions are welcome and may appear in a future regular issue.

The Order of Merit

Here are links to the most highly rated works in each genre represented by more than one title in this Quarterly Review. The categories are listed according to their normal order in the Index and Readers' Guide.

In keeping with Bewildering Stories' astronomical motif, the winners are indicated by the names of space telescopes. The most highly rated title in the quarter is indicated by the name of an arm of the Galaxy. Multiple listings are ties.