Katherine Allen
Bewildering Stories biography
You all know her, and you all pity her parents. She is a classic thing, sometimes termed an "accident" and christened by the more kind as a "miracle baby."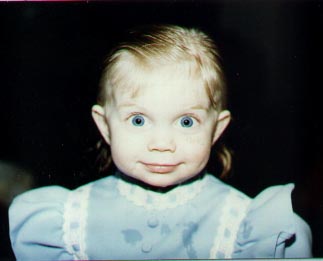 Little Sister Is Watching You
I'm afraid I'm probably the former. I mean, as the fourth of four children the miracle has probably worn off. Anyway, as the baby of a family where I'm the only girl and my parents are older than my friends' grandparents I'm bound to be a little... warped? Unusual? Strange? I'll go with weird.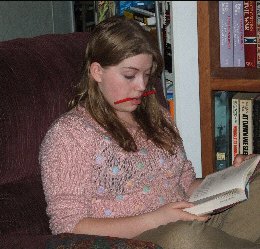 As editor, Kate is armed to the teeth.
My mom taught me to read when I was 5 or 6, and I think she's regretted it every time I've ever said "Okay, Mom, just let me finish my chapter." But you know, it took her a couple years to figure it out that I was usually beginning a new chapter at that moment. I wrote my first story when I was 6, a mixture of Snow White and Cinderella that my parents proudly printed out and displayed in a binder. My first poem, "The Taste of Sausage" was, I am sad to report, not so well acclaimed. But I still like to write. In fact, if I'm not reading, sleeping, eating, or experimenting with makeup, I'm probably writing. I've written a series of short stories, and I'm working on my novel, Skoshi.
I am currently one of those poor, lost, souls known as a teenager, more specifically, a sophomore. Fortunately for me, and probably my English teacher, I'm home schooled. It gives me time to do the things I love most, read, and torture my wonderful father. Of course, as my writing instructor he readily returns the favor. When I graduate I'm planning on going into college for my A.A. in Journalism, with a certificate for Technical Journalism tacked on. After that I really don't know. I may try to find a job editing over the internet so I don't have to enter the world of adulthood known as staying up late working and only having time to read when you are really constipated. But, who knows.
Copyright © 2005 by Katherine Allen
Bewildering Stories bibliography