Val Bonney
Bewildering Stories biography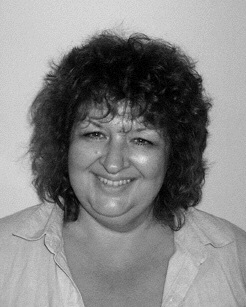 Val has been writing stories for most of her life, and poetry since January 2006. Her subject matter is usually drawn from the joys and pains of everyday life — with occasional forays into the absurd!
She is a regular contributor to two online writers' forums, "The Write Idea" — whose two published anthologies both feature her work — and "The Grail", and has just completed her first novel in response to the worldwide "NaNoWriMo" challenge.
Having gained a first degree in Modern English Studies at Bath College of Higher Education at the age of forty-one, Val was raring to go on her ambition to be a full-time writer.
Unfortunately, real life (and the need to survive) got in the way, and she ended up as a pub landlady in Cornwall instead! Other jobs along the way have included proofreading for a publishing house in Bath and a couple of stints with the Civil Service. She is now a part-time teacher of English as a Foreign Language.
Val lives in Plymouth, Devon with her husband and is a member of a local writers group. Her non-writing interests include singing, gardening and puzzling.
Copyright © 2006 by Val Bonney
Bewildering Stories bibliography