Christine Cartwright
Bewildering Stories biography
I am a "Computer Artist" a.k.a. "Digital Artist." I use 3D programs and paint programs to create my works. My genre is mostly fantasy, sci-fi and horror, though I have been known to do funnies on occasion.
I originally became interested in web design, which I went to school for, but after taking some art classes, I found a new passion and here I am. My passion is creating book covers and creating illustrations for stories, so I love hanging out with writers! I have a deep respect for writers, I just can't imagine how they can think of these stories and put the words to them where it all fits together so perfectly... it amazes me!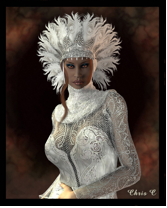 I have created covers for Outskirts Press, my recent being the cover to Mardi Gras Ice. I have created illustrations for Penwomanship, Whispers of Wickedness, Midnight Street, Apex Digest, and Insidious Reflections.
I live in southwestern Indiana and spend my time in front of my computer dreaming up ideas. My favorite writers are Stephen King and Anne Rice. If you are a writer or publisher and are in need of a cover artist or illustrator, you may contact me, Chris Cartwright, at: digitellart.at.yahoo.com or visit my websites at: Digitell Design and Digitell Homestead.
Copyright © 2005 by Christine Cartwright
Bewildering Stories bibliography