Ricky Ginsburg
Bewildering Stories biography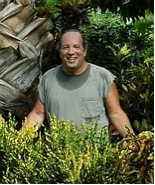 Ricky Ginsburg escaped from New Jersey in 1998 on the eve of his 45th birthday to the wilds of Southeastern Florida just at the edge of the Everglades. He works only when necessary preferring a day at the beach or the company of scantily clad college girls at Florida Atlantic University.
As a writer he is only minimally published having restarted his writing career in 2004 with a nine part tale of competition barbecue in The National Barbecue News. The photo above is from an article in Zone 10 Gardening Magazine (now defunct) that Ricky wrote about solving the mistakes most Northerners make when they try to garden in South Florida.
Ricky has had more than his fair share of fame having exceeded Warhol's predictions with almost eleven years at WFMU radio (not defunct) and two and half years at WBCN - Boston (should be defunct.) His radio show at WFMU — Synthetic Pleasure — had, for a long while, almost a half million listeners and is most famous for his discovery of Yanni. During that phase of his fame he wrote and published a magazine also cleverly called Synthetic Pleasure that had over 1000 subscribers at its apogee.
Currently his writings are slanted towards the genre of Magical Realism and can be found on both his website and Zoetrope.com.
Copyright © 2006 by Ricky Ginsburg
Bewildering Stories bibliography