Erin McAteer
Bewildering Stories biography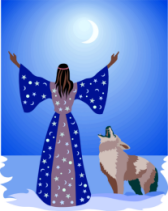 Erin McAteer is a 15-year old student from upstate New York. She lives with her overprotective father, psychotic sister, three overweight cats, a hyperactive dog, two daggers named Fluffy and Betsy, and a bow named Marty.
"Wolf's Moon" first appeared in her high school literary magazine when she was in freshman year from the threats of friends. She is currently working on one fantasy novel centering on wolves. Her website is showcased around her novel, but other works will be shown.
She is currently working on the site.
Copyright © 2005 by Erin McAteer
Bewildering Stories bibliography