Sue Parman
Bewildering Stories biography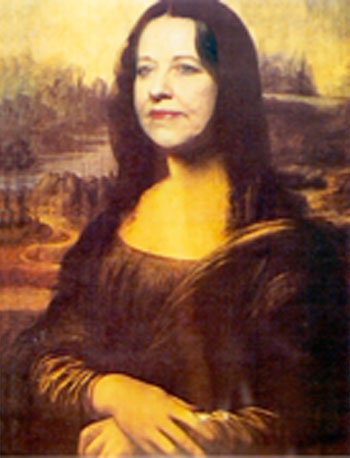 Sue in academic regalia
Sue Parman is an anthropologist/university professor who writes poetry, plays, and narrative fiction. Born in Connecticut, raised in Iowa and New Mexico, marooned for years in California, she now lives happily in Oregon where she hikes forested trails, stalks Powell's labyrinthine bookstore, and enjoys a sane public transportation system. She travels frequently to the Scottish Outer Hebrides where she has studied a crofting community for over 30 years (the second edition of her book, Scottish Crofters, came out in 2005).
As a writer, Sue has published poetry, literary fiction, detective fiction, science fiction, and travel essays, has won several awards, and has had several plays produced.
Yes, Sue, there is a Loch Ness monster.
As an anthropologist, Sue published six books and numerous articles on diverse topics. Her favorite articles in anthropology focus on the intersection of science and the humanities, such as "An Evolutionary Theory of Dreaming and Play" in the book Forms of Play of Native North Americans edited by Edward Norbeck and Claire R. Farrer (1979), and "Lot's Wife and the Old Salt: Cross-Cultural Comparisons of Attitudes toward Salt in Relation to Diet," Cross-Cultural Research (2002).
She has published cultural analyses of dreams (Dream and Culture) and religious rituals ("Orduighean: A Dominant Ritual Symbol in the Free Church of the Scottish Highlands" in the American Anthropologist, 1990) as well as innovative teaching suggestions such as "The Mushroom Method: How to Start Writing a Paper," published in Innovation Abstracts (1990).
For its sheer playfulness, she is proud of the article that was published in Journeys: The International Journal of Travel and Travel Writing (2002) called "A Harrowing True Mysterious Pilgrimage Travel Adventure on the Road Less Traveled (by Bike/Camel/Motorcycle/Ultralight) into the Heart of a Dark Lost Island as Told by the Sole Survivor of a Zen Odyssey among Jaguars, Serpents, and Savages: Travel as Western Cultural Practice Revealed by the Titles of Travel Books."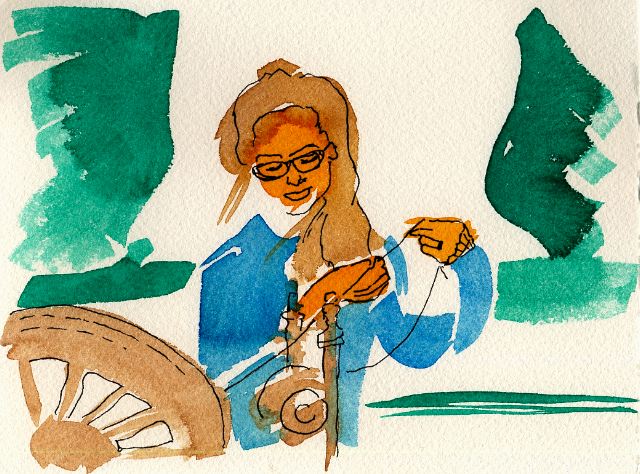 Sue, spinning
Other aspects of her life — her years as Department Chair, presidency of the Society for the Anthropology of Europe, completion of a million-dollar research and teaching facility, Chairman of the Board of the Human Relations Area Files at Yale — are the memories of dreams, full of sound and fury, signifying nothing. For anyone who is interested, she has counted the days of her life in coffee spoons
(see
anthro.fullerton.edu/sparman
).
Her current goals are both less and more ambitious than they once were: to contribute to beauty. She aspires to be like that awkward beast in C.S. Lewis's Perelandra who, when tracked down by Ransom, preferred to remain only a song in the wilderness.
Comments about her work:
"Sue Parman has the great gift of being able to set the scene. She evokes place and time in the way of J.M. Synge. She balances manners with mores, realism with poetry, and pulls you into the world of the story." (Cecilia Fannon, Playwright)

"Susan Parman's stories are haunting and magical, filled with wonderful characters and a strong sense of place." (Sandra Giedeman, President of the Orange County Chapter of PEN)

"Both a skilled fiction writer and a respected anthropologist, Sue Parman is an astute observer of humankind in all its brave, sad and prideful folly. Parman's richly textured prose is often dark, sometimes eerie, and always full of wry compassion." (Kinney Littlefield, Journalist and Writer)

"Whether based on her experiences as an anthropologist or a mother and curious traveler, Susan Parman's fiction resonates with irony and wit. A keen observer of the mysteries of natural and human landscapes alike, Parman infuses her stories with her sense of the cosmic import of small comforts and quiet corners, of empty landscapes suffused with the emotions, dreams, and dread of those passing through them. Whimsy alternate with deep emotional insight in these stories, and laughter with sorrow, as Parman homes in on the ways in which we hide our pain and fear from ourselves and others through the comforting objects — a stuffed gargoyle, a walking stick, books, a cup of Ovaltine — with which we surround ourselves in our everyday lives. In Parman's world, the mysterious is revealed as mundane, and the true mystery exists not out there — in Scottish ruins, an empty moor, or a stormy night — but within each of our hearts." (Gayle Brunelle, Historian and Writer)
(Website:
anthro.fullerton.edu/sparman/
)
Copyright © 2008 by Sue Parman
Bewildering Stories bibliography