Book Review:
Sean McMullen, Glass Dragons
by Jerry Wright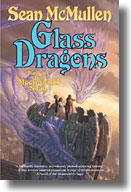 Glass Dragons
Author: Sean McMullen
Publisher: Tor Books
Trade Paper: June, 2004
Length: 512pp
ISBN: 0765307979
Price: $27.95
I've read a couple of Sean McMullen's "human computer" novels. They were well written, but I didn't particularly care for them, nor did I read the final novel in the GreatWinter trilogy called Eyes of the Calculor. However, I happened upon Glass Dragons, and decided that it looked different enough I'd give it a chance, even though it is "Book 2 in the Moonworlds Saga", normally a kiss of death.
And I'm glad I did. Fortunately, the book is written in such a way that no familiarity with Book One is needed.
The writing in Glass Dragons is sly and witty, and McMullen has created characters you can care about, especially that "nature's nobleman" Andry, and his "lass" the vampyric, coldblooded, dead girl Velander. The plot is important -- all the important sorcerers are getting together to recreate a huge magical artifact called "The DragonWall" supposedly to blunt the effects of major storms creating hundred foot seas, which storms were caused by the use and destruction of a horrible magical weapon that appeared in the first novel Voyage Of The Shadowmoon. Needless to say, there are many more plots, subplots, conspiracies, and whathaveyou threading throughout the book, but primarily, the plot centers around the sorcerous Terikel and her companions as they try to thwart and then destroy the DragonWall.
Although the story, at least theoretically centers around the preceeding plot, the best parts of the book are the adventures of Andry, as he moves up from being a press-ganged peasant to... well, read and find out... and his loutish, lewd, "noble" companion Wallas who is irritating as he is unintentionally humorous, and who ends up on the receiving end of two, count 'em two "just desserts".
As I read this book, I was reminded of Terry Pratchett, which is high praise indeed. Sean McMullen is not writing humor, but very odd fantasy, and now I need to find the first book in the series. Why? I'm told that if you think that Glass Dragons is good, the first book is even better.
I was surprised when I went to McMullen's website. He has been around for quite a while, and has published a bunch of stories in Analog, F&SF, and other magazines. His stories have garnered nominations and awards, but this series has made him a writer to watch for, for me.
--Jerry