Book Review:
Jasper Fforde, The Well Of Lost Plots
reviewed by Jerry Wright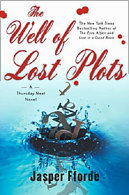 The Well Of Lost Plots
Author: Jasper Fforde
Pub: Viking Books
Hardback: February, 2004
Length: 384pp
ISBN: 0670032891
Price: $24.95
Why is it that I come upon series books partway through the series? Arrrgh. Oh well. The Well Of Lost Plots is the third book in Jasper Fforde's "Thursday Next" series. I'd read some "buzz" about Fforde and his series, but hadn't run into any of his books. So, last week I stumbled across The Well Of Lost Plots and jumped on it. (Metaphorically of course...) Anyway, how would the book stand since I had no familiarity with the series?
I'm happy to report the answer is "Very well, thank you!" Thursday Next is the protagonist of this series of books. She is (or was) a library detective in a universe similar to ours, with the first book--The Eyre Affair-- taking place in 1985. We realize that things are a bit different in her universe when we find that she lost her brother while fighting in the Crimean War which had just ended after 150 years.
Anyway, Book Number Three starts with Thursday hiding out in a book called "Caversham Heights", an deservedly unpublished mystery that is part of BookWorld. Yes, she is part of a Character Exchange Program, where she is replacing a character named Mary, who has occasional interaction with the novel's main character, and so gives Thursday plenty of time to work with Miss Havisham (yes, THAT Miss Havisham, wedding dress and all, from Dickens.)
I enjoyed this book, but I know that I would have REALLY loved it if I had had a chance to read the first two, so my first recommendation is find The Eyre Affair, but if you can't, you'll still have fun. Fforde is a literary wizard, with an amazing fund of information about the Classics, and a puckish sense of humor that occasionally will have you laughing out loud.
A comment from Tucker Anderson, reviewing the book for Amazon.Com:
This book should be viewed as the third installment or volume of a four part serial novel. (This fact is not only my opinion; the interrelated and sequential nature of the four books was emphasized by the author at a book discussion which I recently attended.) The first novel is THE EYRE AFFAIR (review 4/14/04), an introduction to the fictional literary special operative Thursday Next and the closely parallel universe of 1985 England which she inhabits. The second volume is LOST IN A GOOD BOOK (review 5/10/04) and the final volume is the just published SOMETHING ROTTEN. The novels are unique and defy classification, involving elements of science and science fiction, fantasy, humor, mystery, biography, mythology, wordplay and allusions too numerous to list. They are uniformly both thought provoking and incredibly enjoyable. The only advice which I would choose to give to individuals who have not read the earlier books is that when you are in the mood for a lighthearted adventure unlike any that you have ever experienced, introduce yourself to Thursday Next but start with THE EYRE AFFAIR and read them in order. While this book can be read on a standalone basis, you will miss the power of the story and not fully understand many of the allusions.
For more twisted fun, you might also visit www.jasperfforde.com
--Jerry
<
Copyright &copy 2004, Jerry Wright and Bewildering Stories