Book Review:
Philip Reeve, Mortal Engines
reviewed by Jerry Wright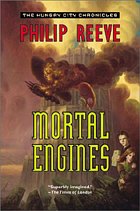 Mortal Engines
Author: Philip Reeve
Pub: EOS
Paperback: September 14, 2004
Length: 384pp
ISBN: 0060082097
Price: $6.99
Also available in hardback
I have had the privilege of reading a number of high quality "Young Adult" and/or "Juvenile" books recently. Along with Terry Pratchett's A Hat Full Of Sky and Kenneth Oppel's Airborn, I also just finished Mortal Engines by Philip Reeve. Reeve is a relative newcomer to the US, as this is his first book, although the UK got it first in 2001. For a first book, Mortal Engines is very impressive. Talk about moral ambiguity... The protagonist, Tom Natworthy lives in the city of London. Except this is a very different London than the one we are familiar with. The opening line of the book:
'It was a dark, blustery afternoon in spring, and the city of London was chasing a small mining town across the dried-out bed of the old North Sea.'
Yes, London is one of many "Traction Cities" practicing something called "Municiple Darwinism" where the larger mobile cities prey upon the smaller as they travel across a blasted world. Tom, of course, thinks this is right, and proper. In the beginning of the book, we meet orphaned fifteen-year-old Tom, an Apprentice Third of the Historian's Guild, who is thrilled to be watching London consume the town of Salthook. Quite literally, too. London has huge hydraulic jaws able to catch and crush, so that the inhabitants can consume whatever is caught.
Certain things about this book reminded me of the "Okie" Cities of James Blish's seminal Cities In Flight series, but though the inhabitants think they are inhabiting the original city, it isn't clear to the reader if this is the actual city, or just some monster technology named after London. Physical discriptions bear little resemblence to the London of today, but never mind, it is a great conceit, and a fascinating setting for a fine story.
Anyway, those thought to be heroes are shown to be villains, and those who seem initially to be villainous murderers are shown to be something quite different.
The writing is smooth, the story will grab you and carry you away, and you'll think about the ramifications of the "Sixty Minute War" and its aftermath a thousand years later. When you finish Book One of "The Hungry Cities" you'll be looking forward to Book Two, Predator's Gold
--Jerry
Copyright &copy 2004, Jerry Wright and Bewildering Stories