Steven King's
Song Of Susannah
The Dark Tower
reviewed by Jerry Wright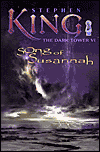 Song Of Susanna
Author:Stephen King
Publisher:
Donald M. Grant/Scribners
Hardcover: 432 Pages
ISBN:1880418592
Price:$30.00

The Dark Tower
Author:Stephen King
Publisher:
Donald M. Grant/Scribners
Hardcover: 864 Pages
ISBN:1880418622
Price:$35.00
Stephen King's magnum opus is finally concluded. Was it worth the wait? Well, I think so. I picked up both Song Of SusannahThe Dark Tower at the same time, and I was happy. I've never cared that much for King. I'm not a horror aficianado. However, such books as The Girl Who Loved Tom Gordon and the Dark Tower series made me a fan of some of his writing.
This series shows Stephen King's love of Science Fiction and Fantasy (caps intentional) and the many references to novels that I love certainly didn't hurt. (For example: Door Into Summer by Robert Heinlein and Highways In Hiding by George O. Smith) And, Stephen King's writing himself into the DT universe was necessary to bring all the pieces together. I mean, why not? After all, both Isaac Asimov and Robert Heinlein tied (or tried) all their writings together, Heinlein more than Asimov, and to my mind, to the point of silliness.
Song of Susannah starts up where Wolves of the Calla left off, with the ka-tet of Roland splitting up. Susannah ends up in 1999 New York, followed by Pere Flanagan and Jake, and Eddie Dean and Roland end up in 1977 Maine, where they meet this Stephen King fellow who started writing about a Dark Tower, but quit because it was just too much for him. Is King the "Creator"? Did he make himself a little 'god' in this book, and the one to follow? Sorry, guys. Not even close. This alternative universe version of Stephen King is even more manipulated than his characters. Who aren't his characters really, anyway. But Gan (why "Gan", I don't think I picked up why that name?) the multiversal creative force is using King to create the Song of Roland and of course, the Song of Susannah.
Naturally, Song of Susannah ends with a cliff-hanger, but that's okay, because just beyond is The Dark Tower. Mordred, the child with two fathers, Roland and the Crimson King, is following the broken ka-tet. Why did King name this assassin-bug Mordred? Well, hey, Roland carries six-shooters made from the sword Excalibur, and he IS of the line of Arthur of Eld, after all.
Anyway, after a long tiring read, and chase, Roland finally does make it to the Dark Tower, only without his slug-horn. And that is important to the future. Anyway, at the end, the Beams are saved, the Crimson King conquered (but not dead!) and even though Eddie and Jake died, remember... There are other worlds than these... And the opening line from so long ago: "The man in black fled across the desert, and the gunslinger followed." retains and redoubles its power.