Book Review:
Simon R. Green, Beyond The Blue Moon
by Jerry Wright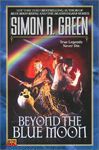 Beyond The Blue Moon
Author: Simon R. Green
Publisher: ROC
Paperback: 489 pages
ISBN: 0-451-45805-2
Price: $6.99
I've seen a number of Simon R. Green books around previously, and even tried to read one called Deathstalker Legacy and although it wasn't bad, it didn't keep my interest, what with all the books beckoning to me. Howsomeever, I ran into Beyond The Blue Moon at my local library, and said, "What the hey, it looks interesting." And it was.
Beyond The Blue Moon is a "Hawk and Fisher" book, which means it is part of a series, but as with any good writer, Green does not require the reader to have ANY familiarity with earlier books in the series. And if they are as good as is this one, well, I guess I'll look them up.
Hawk and Fisher are married couple who also happen to be city guards for the very corrupt city of Haven. They've been at it for over ten years, Hawk (the male half of this duo) is feeling his years and wounds, and both are frustrated by the fact that no matter how much justice they dispense, and corruption they put down, there is always more, simply because the "powers that be" find it politically expedient to allow the bad guys to flourish. After all if things get really bad, there is always Hawk and Fisher.
We get a few chapters that read like short stories to give us a feel of what Hawk and Fisher are really like, and then, out of their hidden past comes the Questor, from the Forest Kingdom. You see, Hawk is really Prince Rupert, and Fisher is really Princess Julia, and Hawk's brother King Harald has been murdered even though heavily protected by all sorts of magic spells that hadn't even been disturbed.
Hawk and Fisher really don't want to resume their identities as the Prince and Princess, and due to their somewhat battered appearance, and Fisher's dying of her blonde hair black, they aren't recognized. Everyone with power in the Forest Kingdom tries to put the two guard/detectives in their places, but Hawk and Fisher take crap from no one.
The milieu is fascinating. Imagine a 16th or 17th century semi-European world where Christianity holds sway, but magic, faerie, and monsters exist. And in THIS time, there are men of God who due to their faith are more powerful than some of the mighiest magic users.
And now, Hawk, Fisher, the Castle Seneschal of the Forest Kingdom, and "The Walking Man" Jericho Lament must face the heart of evil that lies within Harald's castle to prevent the return of "the Blue Moon" which 12 years ago almost plunged the world into darkness and evil, and made Hawk and Fisher the legendary characters they became.
I thoroughly enjoyed this book. It is a far cry from most "High Fantasy" books, has a well-turned sense of humor, and is exciting enough that you really want to know "what comes next", and it will keep you turning pages long into the night. Recommended.