Book Review:
Suzy McKee Charnas, Stagestruck Vampires
by Jerry Wright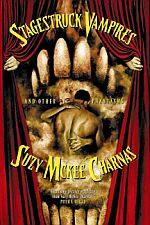 Stagestruck Vampires
Author: Suzy McKee Charnas
Publisher: Tachyon Books
Hardcover: 328 pages
ISBN: 1-892391-21-X
Price: $24.95
I am not particularly a vampire fan, although there seem to be many out there. However, I am a Suzy McKee Charnas fan, ever since I read Motherlines lo, those many years ago.
Ms. Charnas is also the winner of a Hugo Award for her "revenge fantasy" werewolf story called "Boobs", which just happens to appear in this Suzy McKee Charnas collection.
This book is primarily a collection of dark fantasy, as well as two excellent essays. One, the eponymous "Stagestruck Vampires", is about the travails of bringing her Nebula Award winning novelet "Unicorn Tapestry" to the stage, the other, "They're Right, Art Is Long", deals with the hassles of writing (and getting published) the four book trilogy (I know) starting with Walk To The End Of The World called The Holdfast Chronicles.
If you like vampires, this book has several about Weyland, first revealed in "Unicorn Tapestry" as well as a collaboration with Chelsea Quinn Yarbro featuring a meeting between Weyland and Yarbro's "Comte de Sainte Germain". Bizarre, but it works.
As well as the various "monster" stories that Ms. Charnas has written over the years, the book also includes a new story called "Peregrines" a very fun romp that includes a child-shaman and an old, crusty tarot reader in a New York of a few years hence, when Homeland Security, among other things, requires permits for state-to-state travel, just a little throwaway bit, but indicative of the attention to details that are part of Suzy McKee Charnas' charm.
Read this book!