Book Review:
Jack Vance, Lurulu
by Jerry Wright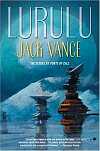 Lurulu
Author: Jack Vance
Publisher: Tor
Hardcover: 208 pages
ISBN: 0312867271
Price: $23.95
Lurulu has been described as being "picaresque". Um, I don't think so. According to Dictionary.Com, "picaresque" is defined as:
1. Of or involving clever rogues or adventurers.
2. Of or relating to a genre of usually satiric prose fiction originating in Spain and depicting in realistic, often humorous detail the adventures of a roguish hero of low social degree living by his or her wits in a corrupt society.
Myron Tany, the hero of Ports of Call is back, but I would hardly call him a rogue or "of low social degree", although the "living by his wits" part is certainly true.
I have never read Ports of Call, and although I want to read it, it is not necessary to the enjoyment of Lurulu. What IS "lurulu"? "A special word from the language of myth," says Captain Maloof of the good ship Glicca, who "rescues" Tany from the backwater planet where his foolish aunt and her gigolo-boyfriend had marooned him. "Lurulu" would be a poignant, indefinable emotion of harmony and completion.
On second thought, there are plenty of rogues surrounding Tany, but we see growth in this rather feckless young man as he and the other voyagers on the trampship Glicca travel the Gaean Reach. The camaraderie between Tany, Maloof, and the other two crewmen, Isel Wingo and Fay Schwatzendale, grows even as we see the differing, and occasionally diametrically opposed personalities of each of the colleagues.
The book wends its way from port to port, plot threads from the previous book are tied up, strange things happen, and people get what they thought was their heart's desire only to discover:
"To travel hopefully is a better thing than to arrive, and the true success is to labour." (Robert Louis Stevenson)
If you want excitement, adventure, and pulsepounding whatever, this isn't your book. If you want a pleasure filled reading experience reminiscent of Jerome K. Jerome's Three Men In A Boat give Lurulu a try.