Kevin Guilfoile, Cast Of Shadows
reviewed by Jerry Wright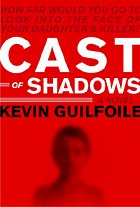 Cast Of Shadows
Author: Kevin Guilfoile
Publisher: Knopf
Hardback: 320 pages
ISBN: 1-4000-4308-5
Price: $24.95
Also available in Trade Paperback
Another book about cloning. Sigh. And not by an SF writer, who if not accurate, would at least be interesting. That was my first thought about Kevin Guilfoile's first novel Cast Of Shadows. Well, first thoughts can be wrong. This book is a combination Medical thriller, SF-Game novel, and mystery.
Just a few years from now, cloning is legal, although hedged about with many restrictions. For one, the clone CANNOT be from a living person. However, when Dr. Davis Moore, one of the leading lights of reproductive cloning, has the chance to see the unknown face of his daughter's killer, his moral high ground crumbles beneath him.
At the suburban Chicago store where she works, 17-year-old Anna Katherine Moore is raped and killed, and her murderer is never caught. Eighteen months later, her father, Dr. Moore, claims her belongings from the police. By accident, along with her belongings are a few of the killer's blond hairs and a vial of the semen found in the examination. Prior to this Dr. Moore has used donated DNA to clone hundreds of babies for couples who would otherwise be infertile or at risk of passing on hereditary flaws. Legally, he may take material only from donors who are both free of defect and quite dead. In a frenzy of need, Moore uses the mystery DNA to impregnate an unwitting patient so that he may one day see the face of Anna Kat's killer.
As the story progresses into the future, the clone grows and develops and Dr. Moore uses software to age-adjust photos of young Justin Finn to get an idea of what he'll look like when he grows up. However, as we progress into the second half of the book, we see another interesting SF idea, based solidly on the multi-player Internet games of today. "The Shadow World" is a "Sims" like replication of the real world, and while many players take the starting character off in strange directions, some take their doppelganger and replicate the same things they do in the real world. And Justin is a player, as is a very clever woman reporter, and the man from whom Justin was cloned.
I thoroughly enjoyed "The Shadow World" concept. To quote from the book: "The Shadow World is the exact world we live in, every building, park, bus stop, and store in the thirty-five hundred cities around the world--and counting--that you can walk or drive down most any street or alley, enter any building if the door's open or you have a key. ...Every player begins the game with a character representing himself. You start with your real-world job, your real-world family, your real-world education. But in the Shadow World, the player can do all the things they are afraid to do in real life."
When computer power becomes a bit cheaper, I see this happening... However, this isn't just a bit of throw-away tech. Justin, and reporter Sally Barwick are able to use The Shadow World to discover the identity of his donor, and quite a bit more they aren't expecting.
There are other threads, and characters portrayed throughout the book, and though some seem to have only a peripheral connection to the main characters, by the time you reach the end of the book, all the disparate threads are tied together, and the denouement is fascinating, realistic, and distressing.
Highly recommended.
Copyright &copy 2005 by Jerry Wright and Bewildering Stories