Audie A. Murphy, Star City
reviewed by Jerry Wright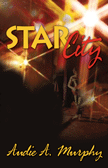 Star City

Author: Audie A. Murphy
Publisher: Instant Publisher
Hardcover: May 2004
Length: 169 pages
ISBN: 0-9755571-0-6
Price: $9.95

One of our newer writers, Audie A. Murphy (no relation to the somewhat more famous Audie L. Murphy of WW2 fame...) mentions in his
bio
that he'd written a book called Star City. He kindly sent us a copy, not for a review necessarily, but just because we'd evinced interest.
The book, a nicely produced trade paperback, is a slim 169 page novel from an outfit called Instant Publisher. Audie says that he chose Instant Publisher because "a romantic comedy-adventure ...is a very difficult genre to sell, especially for an unknown writer." And no doubt that is true, but this story reminded me favorably of Carl Hiassen and Donald E. Westlake, two very deservedly popular writers. Perhaps he should have marketed it as a romantic mystery.
The two main protagonists, musician John Day and newcomer to Star City, Libby Thomas, are likeable, with enough idiosyncracies, and outside troubles, to make their potential romantic matchup highly unlikely.
The other characters, like old Max (Libby's grandfather), pop princess Melissa Knox, bumbling "disorganized crime" gangsters Jimmy and Frankie, eco-terrorists E.A.G.L.E. Seven and E.A.G.L.E. Three, Benny the kleptomaniac Labrador Retriever, and a number of others are well delineated, and mix together as well as oil and water (and dynamite).
What's happening? Max is going to lose his motel/cafe to foreclosure because he owes $100,000 in a balloon payment. John's ex-wife is in cahoots with a scummy real-estate developer to make it happen. Melissa Knox needs to hide out for a while and chooses Max's motel as her entourage's hiding place. Jimmy and Frankie need a place to crash after a big heist. Libby is down from New York to help out her grandpa. And John (and Benny) hang out at Max's for his great cooking. ...And then, all hell breaks loose...
The story is sweet and funny, and although occasionally the punchlines are telegraphed, the denouements are well enough portrayed that you enjoy the trip, even though you know where it is going.
I understand that Murphy, a retired journalist, is writing another story based in Star City, Florida, and if he can get some leverage with Star City then perhaps one of the bigger publishers will give him a chance. Considering the popularity of other Florida-based novelists, well, the possibility is there. The book is NOT available from Amazon or Barnes and Noble, but you should be able to get a copy from the author at aamurphy2_at_juno.com
Copyright © 2005 by Jerry Wright for Bewildering Stories