Eric S. Brown and Susan Brydenbaugh, Cobble
reviewed by Jerry Wright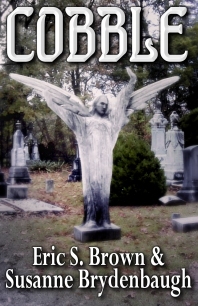 Cobble

Authors: Eric S. Brown
Susan Brydenbaugh
Publisher: Mundania Press
Trade Paper: October 2005
Length: 120 pages
ISBN: 1-59426-228-4
Price: $10.00

Just in time for Halloween, and all youse halloweenies, comes a zombie novel beyond zombie novels by the writing team of Bewildering Stories contributor Eric S. Brown and Susan Brydenbaugh. We have a story in our files called "Mercy-Jacking" by a Susanne Bridenbaugh. My guess is the author is the same. But just a guess.
In some ways, Cobble is more of a novella, or short novel, than a full blown novel, but that is just as well. If one too many scenes of flesh-eating zombies overwhelming a populace and ripping out throats becomes overwhelming to the reader, perhaps it's just as well that the novel weighs in at a slim 120 pages.
I had a pre-release version to read, so perhaps some of the minor editing infelicities will be gone, but never mind. The little problems do not get in the way of some edge of the seat adventure.
Whenever I read a "zombie" story I am reminded of Algernon Charles Swinburne in "The Garden Of Proserpine::
We thank with brief thanksgiving
Whatever gods may be
That no life lives for ever;
That dead men rise up never;
That even the weariest river
Winds somewhere safe to sea.
With such philosophy, Brown and Brydenbaugh are quickly at odds, for dead men rise up, and unfortunately for humanity, remain dead. But hungry. Only not REALLY hungry, just driven to infect still-living humanity. Because... Thanks to some idiot biological warfare boffin, a re-animating virus has been created. And the end of the world is at hand.
All over the world, cities lie in ruins, and mankind lies dead and dying, but on the little island of Cobble, life goes on among the small group of people who have found a way to handle the reanimates. And because they are still a "relatively" thriving community, the remaining weapons group and scientific task force of the US, perhaps the only surviving military power in the world, descends on Cobble, where the military's chief scientist thinks he has the key to stopping the virus. And it is in Cobble's children.
Sadly, as you read on, many of the people you come to care for, die under the claws and teeth of the reanimates, and then something happens. From somewhere out of the past comes an evil demonic force that was the motivator for the virus, and the controller of the zombies.
I'll tell you honestly, as I read the story, I thought that the end would go down in gray death and ruin, but Eric and Susan have crafted a story that ends on a hopeful, but troubling note.
The world and people of Cobble will stay with you for a long time. Youse guys have done good.
Copyright © 2005 by Jerry Wright for Bewildering Stories