Book Review:
John Varley, Red Thunder
by Jerry Wright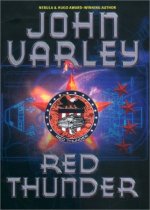 Red Thunder
Author: John Varley
Publisher: Ace Books
Paperback: 411 pages
ISBN: 0441011624
Price: $7.99
As I've mentioned before, my first exposure to SF was Robert A. Heinlein's Rocketship Galileo. John Varley (who early on was considered to have inherited RAH's mantle) has written an hommage to Heinlein's first novel, to Heinlein, and to Florida.
Of course, this is the era of "Mars" books, and so where RSG was "teenagers going to the Moon in their own ship", Red Thunder is "teenagers going to Mars in a homebuilt ship". It could have been trite. It could have been "cutesy". It could have been pathetic. It is none of these. It is, however somewhat lightweight compared to many of Varley's earlier books, but it was a thoroughly enjoyable read.
Is it a "juvenile"? Well, no, although with a bit of judicious editing to lighten up the sex, it could have been. It is interesting. A number of Juveniles, for example by Tamora Pierce, deal with teenage sexuality in such a way that the very young ones don't even notice it, and the older ones just nod their heads in recognition of realities. Herb (aka JV) kind of hits us over the head with it. Oh well.
I loved the characters. Manny, Dak, Kelly, Alicia, Travis, Jubal... They are all well thought out and real. Manny Garcia (not Mannie O'Kelly Garcia Davis from The Moon Is A Harsh Mistress or Kelly (One of Mannie's names, perhaps?) or Dak Broadbent from Double Star or Jubal Harshaw, just for yer examples, eh?) is a typical space-struck teenager (at 19 of course almost an adult) along with his buddy Dak, spends a lot of time dreaming and racing over Florida's beaches in Dak's very HOT truck, "Blue Thunder". Where they run over drunken ex-astronaut Travis Broussard, who is buried in the sand. And things start to happen.
Taking Travis home, they meet Jubal, Travis' cousin, a shy, sweet supergenius, brain-damaged by an attack by his father. And as they get to know the family better, Manny stumbles across a small but impenetrable spheroid (shades of Between Planets!) created by Jubal out of nothing!
Varley's exposition of why and how the kids build a spaceship worked for me, and I agree that some of the problems on Mars and space seemed a bit forced, but on the other hand, if you are following the general plot of Rocketship Galileo the moral equivalents of "Nazis in Space" are needed.
This, in some ways, is a bizarre story, in that some people LOVED it, some thought it was okay, and some HATED and DESPISED it and thought that Varley had really gone down hill. Me? I really liked it, but for the constant bunniness of the kids in bed.
My final thought is that I very much enjoyed it, it wasn't at all what I thought it was going to be (By the way, I really DIDN'T like a lot of Golden Globe), so read it if you can, and by the way, I also highly recommend Varley's Mammoth and am looking forward to his new book Red Lightning. A sequel? I have NO IDEA.
Copyright &copy 2005 Jerry Wright and Bewildering Stories