Gene Wolfe, Soldier Of The Mist
reviewed by Jerry Wright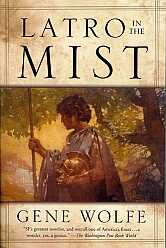 Latro In The Mist

Author: Gene Wolfe
Publisher: St Martins
Trade Paper: 704 pages
ISBN:0765302942
Price: $16.95

Okay... The title says "Soldier Of The Mist", the graphic and info says "Latro In The Mist". What is going on? Well first of all, I only have Soldier Of The Mist from 1982, but the version that is out now is the combined version which includes the sequel Soldier Of Arete. And why am I reviewing such an old book (as it were)? Because Gardner Dozois tells us that the third book, Soldier Of Sidon is due out shortly. And this is a time for joy and welkin-ringing. Among some of us. If you are a classicist, if you are familiar with Herodotos, if you like a good story that reads easily on the surface, but has depths to be plumbed, then you'll enjoy Wolfe, and his "Soldier" books.
Who is this "Latro"? Well, first of, that isn't his real name, but it is all he knows. He is a warrior back in 457 BCE. And he's received a headwound so that his long term memory is gone. Every day is a new day to him, and what has just happened the day before is gone. But he's been told to keep a record of what happens day to day, and this record is what we are now reading.
Because of his wound, he now can see (and cause others to see) all the mythic elements surrounding him. Gods, Goddesses, lamia, denizens of the Greek Mythos now interact with him, and send him on a journey. For anyone else, it would be a journey of self-discovery. For him, not so much. An odd collection of companions gathers around him. Io, the faithful slave-girl, an Ethiopian, a necromancer of ambiguous sexuality, Amazons, prophets, and poets, as well as people who think they are taking Latro as a slave, all are the playthings of the gods. Latro visits Thebes, Corinth, Athens, and Sparta, takes part in the siege of Sestos, and explores Thrace, before a culmination at Delphi and a departure for Italy.
For us, it is a wonderful odyssey. Yes, this journey could definitely be called peripatetic, but due to the whole concept of the story it is necessary, and wondrous. If you have some familiarity with the writings of Herodotus (or Herodotos, as he is called here) your journey will be richly rewarding. If you aren't all that familiar with the Greeks, you won't get as much, but the story is still richly rewarding.
I haven't yet read Soldier of Arete but I'll either find it in a used bookstore, or break down and buy Latro In The Mist and see more through the mists that surround this lost soldier.
Copyright © 2006 by Jerry Wright for Bewildering Stories