Book Review:
Kage Baker, The Life of the World to Come
by Jerry Wright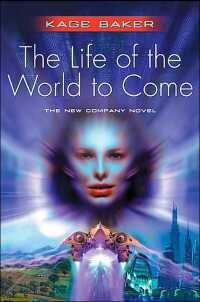 The Life of the World to Come

Author: Kage Baker
Publisher: Tor
Mass Market: 406 pages
ISBN:0-765-35432-2
Price: $6.99

Talk about a plethora! Shortly after finding The Life of the World to Come, I was visiting Don Webb up in Canada and found The Garden of Iden, the first of the COMPANY books. TGOI and TLOFWTC oddly enough both start at the same place. The Botanist Mendoza (her only name) has been dumped in the past, about 150,000 BCE. She is writing the story of her life and times. In The Garden of Iden, she tells the story of how she was inducted, modified into an immortal cyborg and used by "Dr. Zeus Incorporated", aka "The Company" in the 1500s, and meets her first love Nicholas, who meets a horrific death. In book three Mendoza In Hollywood she meets another man, Edward Alton Bell-Fairfax in the 1800s, who dies as well. But in this story trapped in the "Back Way Back", she meets, for the third time, a seeming clone of her first two loves, this time from the 24th century; Alex Checkerfield: Seventh Earl of Finsbury.
From there, the story becomes Alex's. Mendoza doesn't appear again until the end. I found the story fascinating and fun. Of course, when I read The Garden of Iden, I understood much more about Mendoza and her view of the Company, but this book was wonderful in answering so many questions about how the Company came to be, how Mendoza could meet and love the same man three different times after watching him die, and who were the instigators of the "Adonai Project" that we found out about in Children Of The Company.
Is Alex, the piratical renegade cyborg, the reason for the inability of the Company to see past 2355? Or is it his renegade AI, Henry Morgan, stripped of his moral restraints by the child Alex, but always moved by his love of the boy/man?
We don't find out with this book, but I assume we will in the next (final?) book The Machine's Child.
We do, however see the world that Mendoza and her fellow immortals have been promised, which is why the title makes eerie sense, when we realize there is no room in the ridiculously regulated society of the 24th century for those such as Mendoza, Joseph, and the others whose lives have been indelibly altered by Dr. Zeus. The first two books -- The Garden of Iden and Sky Coyote stand well on their own. The last two I just read really require a backgrounding in the Company, but none-the-less are wonderful reads and well worth your time and money.
Kage Baker is a stand-out writer!
Copyright &copy 2006 Jerry Wright and Bewildering Stories