Book Review:
Amanda Hemingway, The Sword Of Straw
by Jerry Wright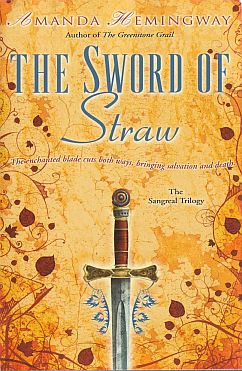 The Sword Of Straw

Author: Amanda Hemingway
Publisher: Del Rey
Trade Paper: 326 pages
ISBN:0-345-46080-4
Price: $12.95

A while back, I posted a review of a very enjoyable book by a lady named Amanda Hemingway. That book was
The Greenstone Grail
, the first book of a trilogy about Nathan Ward. Well, I'm happy to announce that Book 2 will be available March 28th at all the regular places.
Because the people at Ballantine love me, they sent me both an advance reader's copy and the regular book about a month and a half apart. Whatever errors were in the ARC weren't enough to spoil my joy. Oddly, I'd just been down to the library and saw a copy of The Greenstone Grail sitting there on the shelf, and the next day, in comes the sequel. Things don't normally go that well for me. And they said... Wait until the book comes out to review it. So I did. And I am. Or something like that.
Evidently, this book is called The Traitor's Sword in the UK, but here, this blooking evil sword is called the "Sword of Stroar" or as it is mispronounced, "the Sword of Straw". And, mining Michael Moorcock, this sword is inhabited by a demon who not only kills any who draw it, but is poisoning the kingdom wherein it resides.
And is Nathan the stranger of prophecy who will be able to draw the sword and end the evil? Well... What do YOU think... Anyway, the sick and dying king, his beautiful teenaged daughter, evil minions, and a kingdom that everyone is deserting, is just the place for a 13-year-old boy to visit in his pajamas. (or is it pyjamas? Guess it depends, don't it...)
The story is a lot of fun, although there are some definite not-fun parts, like where Nathan gets kidnapped by a crazy kid from school, and where his old buddy Hazel sets her cap for the cute boy at school, and is willing to deal with the evil witch/elemental Lilliat who caused so much trouble in the first novel. Hazel, who always hated the thought of magic and witchcraft, now wants to embrace them, so she can have the boy embrace her. Of course, it goes awry as you knew it would.
Well, I gave the book 5 stars at Amazon. It is really a pleasure to read, and Hemingway's fantasy with the Science Fiction admixture is well worth your time and money.
Copyright &copy 2006 Jerry Wright and Bewildering Stories