Book Review:
Martha Wells, The Gate Of The Gods
by Jerry Wright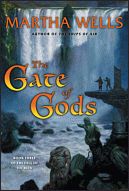 The Gate Of The Gods

Author: Martha Wells
Publisher: HarperCollins Eos
Trade Paper: 416 pages
ISBN:
0380-97790-7 Price: $24.95

Once again, I end up with the third book of a trilogy, without having read the others. Sigh. Doesn't matter, though. There was enough information scattered here and there that I was able to follow along with the adventures of Tremaine Valiard, her husband-by-chance Ilias, and the rest of their rag-tag group. I thoroughly enjoyed the delineation of the very prickly Tremaine and her antagonistic relationship with her father Nicholas.
I was expecting your typical medieval fantasy world, and Ms. Wells shook me right up. Motor cars, steel ships, photography and telephones, with Tremaine being a scientist, and yet in the midst of this is magic of a most powerful sort. And invaders from another "plane of existence" who smash right through the technology of Tremaine's people, and seem to be able to capture the local sorcerors and suck out their souls as it were, to encapsulate them as slaves in spheres which the bad guys (called the Gardier) use to enhance their own abilities.
Yes, I highly recommend you get the first two novels in this series: The Wizard Hunters and The Ships of Air because Martha Wells is a very good writer, and this story is a lot of fun.
You know, sometimes you get a book, and you have to struggle to finish it. And then there are the books you hate to leave, even when you have to do ugly things. Like go to work. TGOTG is one of the latter. And so... I'm going to have to find the other books, as well as Death of a Necromancer, also about Tremaine, and set in prior to this, the Ile Rien series.
If you want to get a taste of Martha Wells' writing, well, head on over to http://www.marthawells.com for a taste of this book and other works by this most talented fantasist.
Copyright &copy 2006 Jerry Wright and Bewildering Stories