Book Review:
Steven Gould, Reflex
by Jerry Wright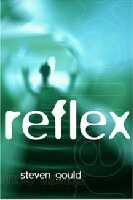 Reflex

Author: Steven Gould
Publisher: TOR
Mass Paper: 384 pages
ISBN:0812578546
Price: $6.99

Fourteen years ago, Steven Gould jump-started his writing career with a terrific "coming-of-age" SF book entitled Jumper. And finally, in 2005 (for hardback) and 2006 (for paperback) we have the sequel... Reflex.
In the interim, Gould has written a number of enjoyable and well received books, such as Helm and Wildside, but it is with extreme pleasure we head back into the world of Davy Rice: Teleport.
In Jumper, Davy discovered his ability when forced into an intolerable situation by his drunken, abusive father, and he just "jumped" to his sanctuary, the local library. Jumper was a revenge story, and well-told. We cared about Davy and the people he meets in his wanderings, and Millie, who becomes his girlfriend.
Reflex takes place twelve years later, and Davy and Millie are a fairly happily married couple, with Davy picking up a fat consulting check occasionally working for NSA, thwarting terrorists, and making "impossible rescues". But his abilities are also known to some very bad bad guys.
Davy is drugged and then kidnapped, and his NSA handler is killed in front of him. How do you trap a man who can teleport? Needless to say, Gould is right on top of the problem, and his solution is both realistic, and nasty. Of course, thanks to drugging, intimidation, and operant conditioning, his captors hope to turn him into an unstoppable assassin. And Davy refuses to cooperate, which means some pretty graphic cruel things are done to him.
In the meantime, we swap back and forth between the captive Davy and his wife Millie. The narrative swaps are well done, and we get a good feel for the kind of person Millie is. And then she discovers that if someone teleports you enough times, it seems to make changes in your brain as well. And she becomes a teleport as well. So now, she is on the warpath, searching for her lost husband.
Reflex is very well written, and all the characters come across as real people, no cardboard cut-outs here. Even the bad guys are well delineated, and shiveringly evil. Even the side characters like the paralyzed little girl and the homeless mentally ill woman become real to the reader. We also learn more about the act of teleporting, and somewhat, how it works.
The story ends on a high note, though perhaps abruptly, with plenty of room for a third book. We'd like to see another one, but we really wouldn't like to wait another 13 years.
Copyright &copy 2006 Jerry Wright and Bewildering Stories