C. S. Lewis, The Complete Chronicles of Narnia
reviewed by Mellissa Green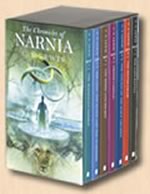 The Complete Chronicles of Narnia

Author: C. S. Lewis
Publisher: various
Dates : 1939-1956
What images do you conjure up when you hear the words "classic children's literature?" Maybe it's The Wizard of Oz? Or maybe you're thinking of Charlotte's Web. Though those are certainly classics, the classic I'm talking about is The Chronicles of Narnia. This seven-book series by C.S. Lewis has been combined into one volume known as The Complete Chronicles of Narnia!
This complete book set, compiled and published in 1998, by Harper Collins, is a joy to read. An introduction precedes the books detailing how C. S. Lewis wrote this masterpiece. Throughout the books, he provides his commentary on certain sections. He also gives detailed information in his commentary such as flashbacks or historical facts.
In Book 1, The Magician's Nephew (actually the sixth book written), Lewis focuses on the history of Narnia as well as the reason for choosing the wardrobe as a traveling vehicle.
Book 2, The Lion, The Witch, and The Wardrobe, tells of four children, Lucy, Peter, Susan, and Edmund, sent away from London during the war, and how they enter the land of Narnia through a magic wardrobe where they meet, and save, the great Lion Aslan.
Book 3, The Horse And His Boy, tells a Narnian adventure during the rule of Peter, Lucy, Susan, and Edmund. Book 4, Prince Caspian, tells how the four children, Peter, Lucy, Susan, and Edmund get an education. As they wait on an English train station platform, they are called away to Narnia to fight a war.
The Voyage of The Dawn Treader describes how Edmund and Lucy are sent to live with their Aunt and Uncle, as well as their unpleasant cousin Eustace Scrubb. When Edmund and Lucy are looking at a picture of a ship in Lucy's bedroom and begin talking about Narnia, their cousin, Eustace, who is eavesdropping, begins to tease them, thinking they are making up stories. Things start to change, when three of them get swept into the picture which suddenly becomes real.
The Silver Chair focuses on Eustace's next adventure in Narnia with Jill Pole. The Last Battle, which is the last book in the series, covers the last Narnian war which Jill and Eustace help to fight.
The books are good when read individually, but read in this compact form makes it even better! C.S. Lewis gives good descriptions of his world and the events which take place in it. The commentary also helps to explain things. I also like how in some instances, he invites the reader to participate. For example, "imagine you..." Or, "I wish you had been there", or, "If you ever make it to Narnia..." I think it would have been great if he'd written other children's books.
Copyright © 2006 by Melissa Green