David Cronenberg, dir., A History of Violence
film review by Christopher Stires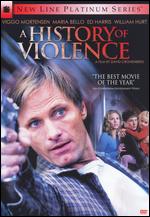 A History of Violence

Director: David Cronenberg
Screenwriter: Josh Olson
Authors: John Wagner, Vince Locke
Starring: Viggo Mortensen,
Maria Bello, Ed Harris, William Hurt
Length: 96 mins.
Rating: R (graphic everything)

Everyone has something to hide.
Edge-of-your-seat time, folks. The latest from director David Cronenberg delivers. In spades.
Okay, this movie will either in be your top ten or bottom ten films of 2005. For me, it was much more engrossing and entertaining than any of the films nominated for Oscar's Best Picture.
In the opening, we meet two lowlifes, Leland and Orser, and understand immediately what they are capable of. They are bad men. Period. In other thrillers, they would've been the only villains necessary.
Then we are introduced to the Stall family in quiet Millbrook, Indiana. They are husband Tom (Mortensen The Lord of the Rings trilogy, Hidalgo) who runs a small diner, wife Edie (Bello The Cooler, Assault on Precinct 13) a lawyer, son Jack in high school, and daughter Sarah in grade school.
We see the love the family has for one another, the passion Tom and Edie still ignite within each other, and Jack's problems with school bullies. We get to know them and we like them. That's an important aspect that many thrillers forget. The audience has to care about the characters in the story, novel, or movie.
I cared. I was hooked. And when, while Tom is working at the diner, Leland and Orser walk through the door I was on the edge of my seat. If you haven't seen any of the trailers or read the back of the DVD box, I won't spoil it for you. It is riveting. And the movie kicks into high gear.
Shortly thereafter, Philadelphia mobster Carl Fogarty (Harris Apollo 13, Empire Falls) arrives and the Stall family life is changed forever. Harris should play more villains. How many actors can be scary while just sipping a cup of coffee? And later, when little Sarah wanders away from Edie at a mall and Edie finds her with Fogarty watching her is a pure nail-biter. I won't reveal any other details. I'll let you discover them for yourself. Be warned however, this is not your grandma's thriller. It is brutal and hardboiled. Loved it.
Trivia: William Hurt was nominated for Oscar's Best Supporting Actor award for his ten-minute role as mobster Richie Cusack. He is memorable. I would've picked Harris though.
Copyright © 2007 by Christopher Stires