Book Review:
James Van Pelt, Summer of the Apocalypse
by Jerry Wright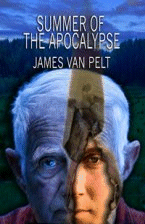 Summer of the Apocalypse

Authors: James Van Pelt
Publisher: Fairwood Press
Trade Paper: 260 pages
ISBN:
0974657387
Price: $17.99

James Van Pelt is a frequent contributor to Asimov's and Analog Science Fiction magazines, and is marvelous with the short story form. As his new novel Summer Of The Apocalypse shows, he is expert at spinning stories in the longer form.
This novel is very much a coming of age story, with 15-year-old Eric making a trek across a devastated U.S.A. and a search for his missing father. And that search is paralleled with another search told simulaneously. Sixty years later, Eric repeats his journey through a world that has fallen into ignorance and illiteracy, with the survivors living a hardscrabble existence from what they can scavenge from the ruins of the old world.
Mr. Van Pelt is both a writer, and a school teacher, and this book is a great, and extremely enjoyable first novel.
Copyright &copy 2007 Jerry Wright and Bewildering Stories