Leigh Brackett:
Much More Than the Queen of Space Opera!
by Bertil Falk
part 1 of 2
When Howard Hawks (1896-1977) planned to make a screen version of Raymond Chandler's The Big Sleep in 1946, he happened to read "No Good from a Corpse" by Leigh Brackett (1915-1978). Hawks was not overly impressed by the story, but he most certainly appreciated the dialogues. It is understandable. The story is perhaps not that good, but the way it is written. "Wow!" he said, "get me that Brackett guy" or words to that effect.
To his surprise a lanky young woman turned up at his office. And who can blame him? Leigh is an ambiguous first name, mostly interpreted as a male name. And how could he possibly imagine in those days that a woman wrote the most hardboiled and hard-hitting punch cues in Hollywood?
Hawks straightaway overcame his surprise, hired her and in the long run Leigh Brackett became his favorite scriptwriter. She was professional and reliable. Over the years, he summoned her over and over again. And lo, in this the 21st century, her old crime stories and space operas are brought to light and praised again.
In retrospect, Leigh Brackett turns out to be a somewhat different bird in the world of writers. She moved freely and without any apparent difficulties between differing genres like mysteries, westerns, fantasy, science fiction. Certainly, other writers have done the same, but on top of that, she moved equally unhindered between different media: novels, short stories, films, TV, radio. Just imagine how many combinations you can get out of that.
In addition to her brilliant handling of dialogues, she had an excellent faculty for visualizing and an impressive ability to characterize; and at the end many of her stories are replete with over- and undertones of a rare existential quality.
When James Sallis reviewed Martian Quest: the Early Brackett (Haffner Press, 2002) in Fantasy & Science Fiction, he stated that as "with many true originals, much of Brackett's work, for all its seeming diversity — hardboiled, standard mystery, Westerns, high fantasy, science fiction — falls in a straight line."
Sallis points out that her first published short story, "Martian Quest," is "a transliteration of the standard Western plot: stranger with mysterious past rides in from off-planet to a farming community in the reclaimed Martian desert, meets a fine woman, encounters distrust and rejection, solves the community's problems and saves all."
But I do not think of science fiction when I read her crime stories. I do not think of fantasy when I read her western stuff. I do not think of mysteries when I read her space operas and — in spite of Sallis' accurate observation — I do not even think of Westerns when reading "Martian Quest."
There may be similar plots, similar frames of minds and atmospheres in her writing. Even though she was not a stranger to crossover genres and subcategories, at the end there are sharp dividing lines between many of the different genre stories she tried her hand and mind at. The cruel but outstanding noir story "Red-Headed Poison" (1943) has for example very little in common with the science-fiction story "The Jewel of Bas" (1944) — the latter in itself a gem.
Furthermore, her prose is captivating, and I am not really tempted to analyze whether it is this or that while reading. When she was commissioned to turn some other writer's story into a screenplay, instantly she was able to adjust her own attitudes to the other writer's (or Howard Hawk's) mind, but she always added that Brackett touch to it. She knew what she was doing and possessed an immediate ability to visualize scenes and create matchless dialogues, cues and one-liners.
Leigh Brackett grew up in Santa Monica, a tomboy with a weakness for boyish plays and games. She swam, devoted herself to amateur theatre, and in the summers she was a swimming instructor. Ray Bradbury once recounted how he watched Leigh Brackett playing volleyball with the men during WWII at Muscle Beach in Santa Monica.
"I've always been bent on masculine things", she told the writer of this essay in 1975. Despite titles like "The Dragon-Queen of Venus" (1941), "Lorelei of the Red Mist" (1946), "Enchantress of Venus" (1949) and "The Woman from Altair" (1951), her heroes are men. Her women are at most catalysts — sometimes, but certainly not always — of a tempting, grim and dangerous kind.
In this connection I would like to cite the Swedish science fiction and mystery specialist John-Henri Holmberg. Swedish film critics have had a tendency to give Hawks credit for portraying strong women in his movies. Holmberg scolded the reviewers for not taking into consideration that it actually was a woman who had written the scripts for those movies.
Brackett's first and last love was science fiction — or rather the combination of the science fictional subgenre space opera and the fantasy subgenre called sword & sorcery, a combination described as 'scientific romance' by science fiction historian Sam Moskowitz. "Planetary romance" is perhaps a more fitting label.
She was inspired at an early age by Edgar Rice Burroughs (ERB). Not exactly the ERB of Tarzan of the Apes, but the ERB whose Under the Moons of Mars (1912) became a landmark novel of the genre. Besides books and film, the golden years of radio affected her. The American radio waves in the 1930's and 1940's vibrated with exciting dramas, entertaining mysteries and romantic soap operas. Those were the days of The Shadow and Mercury Theatre of the Air, with Orson Welles.
She had a grandfather who supported her efforts to sell her first stories. She turned to an "agency-cum-writing-course," where Henry Kuttner discerned her talents. Through him, she got into contact with other writers in Los Angeles. The year was 1939. She was 24 years old then and got her first short story, "Martian Quest," published in Astounding Science Fiction in February 1940.
Between 1940 and 1943, she wrote a series of short stories for magazines like Planet Stories, Startling Stories, and Super Science Fiction. They were simple but promising stories foreshadowing things to come. And soon she penned perhaps the best of her existential short stories, "The Veil of Astellar," a significant and different contribution to the space opera genre. It was published in Thrilling Wonder Stories in the spring issue of 1944. It is a unique story, one of the most remarkable, tragic and well-written existential hero tales worth considering.
At the same time as she churned out a stream of planetary romances, she also had begun penning a series of extraordinary hardboiled criminal stories for the mystery pulps. In 1944 she got her first full-length novel published. It was not a planetary sword & sorcery opera but the crime story "No Good From a Corpse" (reprinted together with her collected short criminal stories by Dennis McMillan, 1999).
The dialogues of her short science fiction stories were not bad, but when it came to writing tough cues in the tradition of Hammett and Chandler, two hardboilers she admired, Brackett was ahead of most other writers.
Leigh Brackett's period as a writer of short hardboiled detective stories was in itself as short as the stories. As far as I know, eight short stories between 1943 and 1945 for down-market pulps like New Detective and Thrilling Detective with a temporary relapse into the genre for Argosy in the late 1950's.
Unlike her planetary romances, her hardboiled stories were in every respect cast in the Chandler mould. She did not really add anything to the genre as such, but as Bill Pronzini puts it, referring to "No Good From a Corpse," she was so "Chandleresque in style and approach it might have been written by Chandler himself." Pronzini even called her "one of the top hardboiled writers of all time." And it is true that she almost outdid Chandler on his own half of the ground.
It was in 1946 that Howard Hawks read "No Good From a Corpse" and entered the action, thus diverting her from short stories and novels to screenwriting. Actually, The Big Sleep was not Leigh Brackett's first job as a screenwriter in Hollywood. Forgotten are The Vampire's Ghost and Crime Doctor's Manhunt, potboilers of 1945.
With Howard Hawks' intervention in her life, her career as a screenwriter made a quantum leap. But over the years she seems to have been underpaid as compared with Jules Furthman and other rather lazy but well established screenwriters.
At that point when Hawks summoned her to his office, she had prepared half of the 20,000-worder "Lorelei of the Red Mist" for Planet Stories. She had written the line "Then it was gone, and the immediate menace of the foreground took all of Starke's attention." At the same time that she wanted to accept Hawk's offer, the assigned story had to be finished. She had to make some kind of decision.
The dilemma was solved. Ray Bradbury was five years younger than Leigh Brackett. She was a kind of mentor and a sounding board for this aspiring writer. She turned to Bradbury and asked him to complete the story. He accepted the challenge.
Where Brackett had stopped writing the story, Bradbury jumped into medias res and continued with the following sentence, "He saw the flock, herded by more of the golden hounds." Then he completed the story in ten days and "Lorelei of the Red Mist" was published that same year. The rest is, if not exactly history, at least science fiction history, for this Brackett-Bradbury collaboration is famous among knowledgeable science fiction fans.
However, Leigh Brackett now turned from one collaborator to another one, from Ray Bradbury to William Faulkner, who still had a few years to go before being awarded the Nobel Prize for literature. Faulkner now worked for Howard Hawks. "Faulkner came in to me with Chandler's The Big Sleep. He tore the book in two pieces and gave one of them to me. 'I do this part and you do this', Faulkner said. And that was just about all I saw of him."
That is what Leigh Brackett told me when I visited her husband Edmond Hamilton (1904-1977), the creator of my boyhood hero Captain Future, in their winter home in Lancaster, California in 1975. She had married Hamilton, a space opera king of the pulp field, on January 1, 1947 with Ray Bradbury as best man. I had begun reading Edmond Hamilton's Captain Future stories translated into Swedish at the age of nine in 1942.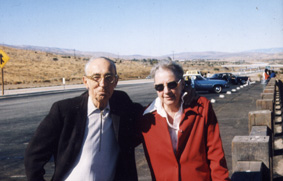 Edmond Hamilton and Leigh Brackett
photo by Bertil Falk They picked up the journalist and Hamilton-fan from Sweden at the Greyhound terminal in downtown Los Angeles and took me in their car to their home. On the way to Lancaster, Leigh Brackett, who loved driving fast cars, stopped and they let me take a look down at the San Fernando fault zone.
Had it not been for the fiery red color of coat and trousers, Leigh's clothes could have been inspired by John T. Molloy's Women's Dress for Success. Now, outlined against the sky, she was like a blood-red splash of color ready to replace the sun any minute. She did not do anything of the kind. Instead, after contemplating the intrinsic power of the geography below us, she returned with us to the car.
I had come to interview Edmond Hamilton and slept one night in Leigh Brackett's study, a small house besides the main building. After interviewing Ed, I also took the opportunity to interview Leigh Brackett, then a writer I had not read, except for a short Mercury story published in Swedish in 1941, though I had seen The Big Sleep. So I asked her about that period of her life.
"I was young and curious and was at the studio all the time during the shooting. One day Humphrey Bogart came over to me with a manuscript and asked if I had written the cues. I said no and he said, 'They cannot be said'. You see, William Faulkner wrote wonderful Faulkner dialogues, but they were not written to be uttered. Faulkner went down in history as the screenwriter whose every single line was rewritten in Hollywood."
Later on, I got to know that Howard Hawks himself sat by ringside during the shooting and rewrote Faulkner's lines more or less like the way a student's essay is critiqued. Raymond Chandler visited the studio and was very pleased with the job Leigh Brackett had done. But a craft-union strike hit the movie business in the summer of 1946. No more script-writing jobs were available. Leigh Brackett went back to writing her space opera stories. And that is the way it was to be. She took on many assignments of different kinds over the years, but when done, she always returned to her space opera adventures.
Edmond Hamilton admired the ease with which his wife moved, in his own words:
"from one kind of fiction to a completely different kind. In eighteen months, in 1956-57, she wrote not only The Long Tomorrow but also two novels of crime and suspense, The Tiger Among Us, which became an Alan Ladd movie, and An Eye for an Eye, which formed the pilot for the "Markham" series on television. At the end of that period, she returned to Hollywood and to her old producer Howard Hawks, to write Rio Bravo, the first of a series of John Wayne action epics she wrote."
The other scripts she wrote for Hawks and Wayne were Hatari! (1962), El Dorado (1967) and Rio Lobo (1970). When she wrote El Dorado, Hawks and Wayne wanted her to borrow a scene used in Rio Bravo. Leigh Brackett was against repeating the scene. John Wayne shared Hawks' opinion and argued that since it worked then, it would do so again. Edmond Hamilton remembered that his wife knew when she was outgunned. She wrote the scene.
Copyright © 2007 by Bertil Falk