Laura Stamps, The Witches of Dixie:
Book One of the Witchery Series
excerpt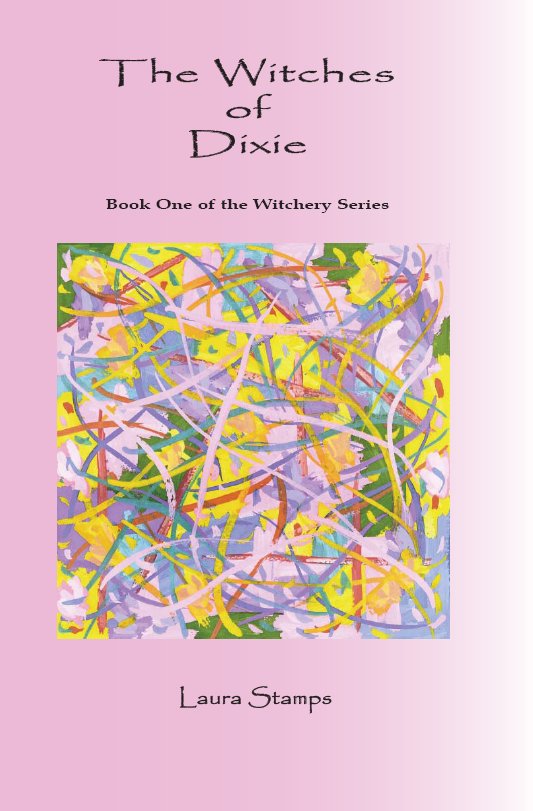 The Witches of Dixie
Author
: Laura Stamps
Publisher
:
Trytium Publishing
, 2007
Paperback
: $12.95 U.S.
ISBN
: 978-0-9798413-0-9
Chapter 1: Book of Shadows
First week in June, and the scent of honeysuckle saturates the forest behind Savannah Monroe's house, rain droplets from last night's thunderstorm clinging to each leaf. As this sweet fragrance drifts through an open window, she thinks the Fey must be fanning it her way, one of their favorite methods of greeting.
"Where could it be?" Savannah asks Horus, his eyes glowing like brass buttons stitched to a black suit, idly licking his paw. She yanks open another drawer, carefully sifting the contents, but finds no Book of Shadows. Usually, it sits in the middle of her altar, surrounded by green candles, crystals, and statues of Bast, her Patron Goddess. Yet for the first time in her Wiccan years it seems to have disappeared.
This frantic search started with an email she received this morning, which sent her running to the altar for the book containing her best prosperity spells. Marge Wilkerson, the buyer for Tiko's, a national chain of boutiques, emailed to cancel her monthly order of handbags, claiming they no longer sell well for the company. Marge wrote she hopes to resume her monthly ordering schedule soon.
Savannah wonders. Her handbags have sold briskly in those boutiques for the past three years. Now Marge cancels an order. After reading the email, Savannah sat at her computer, fiddling with the pentacle earring dangling from her right ear.
"Something is up," she murmured. That's when she dashed to the altar and discovered her Book of Shadows was missing.
* * *
Her company, Savannah's Magickal Handbags, began years ago by accident. Savannah needed not only a pretty purse for her job but also a functional one, meaning lots of pockets inside and out. When she couldn't find what she needed, she decided to design one herself.
She found an old purse she no longer used, ripped it apart to understand its construction, and then pieced a new handbag together from the fabric scraps in her sewing basket. She added lace, beads, and sequins for a splash of color. Then she attached several charms charged with spells for health, wealth, and protection.
The response from other women surprised her. At the time she worked as a personal assistant to a fashion designer in Atlanta, the next step toward achieving her long-term goal of one day designing a line of clothing under her own label.
Savannah worked hard and slowly advanced up the fashion ladder. Handbag design was never part of the plan. Yet news traveled fast, and soon she received weekly requests from women willing to pay the high prices she asked for her unique handbag creations. Most loved the fact that each handbag was charmed. Soon Savannah realized she enjoyed designing these funky purses more than clothing.
After a year her bank balance soared with the extra money from handbag sales. She had also accumulated a long list customers, so she quit her position with the fashion designer and moved to the Appalachian Mountains of North Carolina, where she devoted her creative energy fulltime to Savannah's Magickal Handbags.
Sales increased rapidly when she exhibited at Merchandise Marts and trade shows, including the International Gift Shows in New York and Atlanta. Department stores and boutiques across the country bought her handbags, and sales grew steadily for ten years.
Until now. Revenues dropped in January and continue to decline each month. June arrived, clicking its humid heels, and Marge canceled her monthly order.
Savannah shakes her head and continues to search for the misplaced Book of Shadows, while singing her daily chant:
"Beloved Bast, bring money to me fast. Bring business success. May all my handbag customers be blessed."
* * *
An hour later Savannah stands in front of the altar, her personal spellbook still missing. She prays silently to Bast for help.
At that moment her two cats, Horus and Thoth, race through the living room, dashing beneath the altar. Black and sleek as an olive, Horus runs like a gazelle, a study in grace. But Thoth, a chocolate-swirl Maine Coon, looms large for his age and bumbles like a clumsy puppy.
Horus glides under the altar and into the kitchen with the slippery ease of a fish. But Thoth bumps into the leg of the altar, knocking half the contents over, some pieces crashing to the floor, including the box containing her tarot cards.
Savannah opens her mouth to scold Thoth, but stops when she notices the tarot cards spilled from the box, scattered across the carpet. All rest face-down except the Death card. And it lies in a reverse position.
Not a good sign.
Copyright © 2007 by Laura Stamps