S. M. Stirling, In the Courts of the Crimson Kings
reviewed by Jerry Wright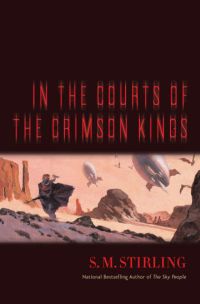 In the Courts of the Crimson Kings

Author: S.M. Stirling
Publisher: Tor Books;
1st Edition, March 18, 2008
Hardcover: $24.95
Length: 304 pages
ISBN: 0765314894
978-0765314895
I grew up with stories like "A Princess of Mars" and "The Secret of Sinhallat"! Burroughs, Bradbury, and Brackett portrayed a dying Mars with ancient races, alien technologies, and doughty Earthmen buckling their swashes on the crimson sward.
And those traitors to great fantastic fiction; Astronomy, Physics, and real rockets to Mars... Well, we sighed in sadness and called it Science Fantasy, Alternate History, and another case where Fact killed Fiction.
Steve Stirling was not content to let that remain, however. His Lords of Creation series posits a solar system where ancient astronauts terraformed Mars and Venus, with the latter being that steaming prehistoric dinosaurian world, with of course the obligatory beautiful cave princess, and Mars — a world of a dying race with a history going back tens of thousands of years.
I haven't read The Sky People, as the book jacket made it sound like warmed-over Otis Adelbert Kline. In The Courts of the Crimson Kings is the real deal, however, the pure quill. If you are of the "Boomer" generation, with a memory of "the Good Old Stuff," you will devour, and enjoy this adventure on a Mars I thought never to see again.
And unlike something like The Space Vulture, espousing the worst faults of SF of the 30s and 40s, this novel is written with love and a 21st century sensibility.
Copyright © 2008 by Jerry Wright