Gonzalo Suárez, Rowing with the Wind
(Remando al viento)
reviewed by Gary Inbinder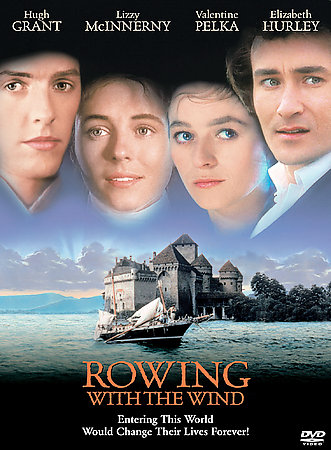 Rowing with the Wind

Director: Gonzalo Suárez
Studio: Miramax
Length: 95 minutes (U.S. 2008)
Spanish original: 126 minutes (1988)
ASIN: B00000IBLP

I had a dream, which was not all a dream.
The bright sun was extinguish'd, and the stars
Did wander darkling in the eternal space,
Rayless, and pathless, and the icy earth
Swung blind and blackening in the moonless air;
Morn came and went–and came and brought no day...
The film Rowing with the Wind begins with Hugh Grant's voice-over reading of the first lines of Byron's poem "Darkness," which was written in Geneva during the summer of 1816 when he met the Shelleys.
An arctic scene reminiscent of Mary Shelley's Frankenstein follows this introduction. Mary begins her narrative aboard a small ship in a frozen sea; she scratches her memoir on paper with an inkless pen while Vaughn Williams' haunting and evocative "Fantasia on a Theme of Thomas Tallis" plays in the background.
The film, which depicts the meeting of the poets at the Villa Diodati on the shores of Lake Geneva and subsequent personal tragedy, mixes fact with fantasy, the real with the surreal. The creature from Mary's Frankenstein enters the film as a harbinger of death, born of the inner darkness described in her novel and Byron's poem.
The acting (Grant, Elizabeth Hurley, Valentine Pelka and Lizzie McInnerny) is superb; the writing and direction (Gonzalo Suárez), intelligent and darkly humorous; the scenes of Switzerland and Venice, beautiful and compelling. The musical score is a treat for classical music lovers: in addition to Vaughn Williams, there are selections from Grieg, Beethoven, Mozart and other 18th- and 19th-century composers.
There are two other films that deal with similar subject matter released about the same time (mid to late 1980s): Gothic and Haunted Summer. In my opinion, Ken Russell's version is too over the top and psychedelic. I much prefer Haunted Summer, but of the three I think Rowing with the Wind is the best.
Copyright © 2009 by Gary Inbinder