Robert Randall, A Little Intelligence
reviewed by Bertil Falk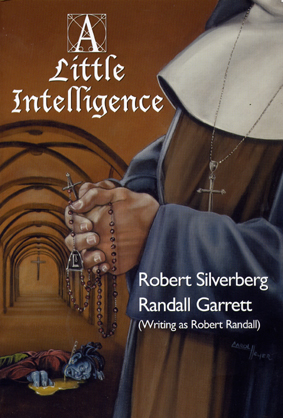 A Little Intelligence

Author: Robert Randall (Robert Silverberg
and Randall Garrett)
Publisher: Crippen & Landru 2009
Length: 182 pp.
ISBN:
(limited cloth bound edition)
978-1-932009-70-5
(trade paperback edition)
978-1-93209-71-2
Every time I get a parcel from Norfolk, Virgina, I eagerly open it, and behold, another great short story collection has made the transatlantic crossing in order to illuminate my life in the Swedish countryside. The book is from
Crippen & Landru
.
The business concept of Crippen & Landru is to collect forgotten short stories of mystery and detection from old publications, slick magazines, pulp magazines etc. Since 1994, the publisher Doug Greene has published more than fifty books in Crippen & Landru's regular series and twenty-six books in The Lost Classics Series. Mystery Scene Magazine has called it "the best edited, most attractively packaged line of mystery books," and I agree. That's why I subscribe.
I am especially fond of The Lost Classics Series. What mystery lover can resist excellent stories in The Casebook of Sidney Zoom by Erle Stanley Gardner? They have not been reprinted since the 1930's. Or stories by Rafael Sabatini in The Evidences of the Sword and other stories. They have been collecting dust since the 19th century. Not to forget Masquerade Ten Crime Stories by none other than Max Brand.
But the regular series is equally good. The big difference to me is that the stories published in the lost stuff series is so much more difficult to find somewhere else.
In the 1950's two science fiction and mystery writers put their heads together. They were Randall "Lord Darcy" Garrett (1927-1987) and the then young Robert Silverberg. Under the assumed name Robert Randall they wrote stories for the SF market. Seven stories have now been collected with an introduction by Robert Silverberg and published by Crippen & Landru in the regular series. The title: A Little Intelligence.
Three of the stories are pure detective stories taking place in the future and/or on other planets, viz. "Deadly Decoy," "The Slow and the Dead" and "A Little Intelligence." In "A Little Intelligence," a Catholic nun, Sister Mary Magdalene, solves the murder of an alien on Capella IX. "The Slow and the Dead" includes a duel that actually is a murder. The mystery theme is interwoven with the SF theme in a perfect way. All three stories are well structured mysteries with pieces of the puzzle ultimately falling into place.
Robert Silverberg is Jewish but not observant, while Randall Garrett was an Episcopalian who talked about entering the Anglican priesthood. His interest in religion shows not only in "A Little Intelligence" but also in "No Future in This" and "Deus ex Machina," both stories featuring a Jesuit with an ability to predict the outcome of horse races and his young Jewish sidekick. This seems to reflect the collaboration between the two writers.
I think that it is stretching things too far to call the two Jesuit stories detective stories. I would not call them mysteries either. If so, an enormous amount of science fiction stories could be called mysteries. However, "Deus ex Machina" is very interesting for the simple reason that the plot includes an early (published in Future Science Fiction, October 1956) discussion about Christianity and two religious sects on the planet Regulus IV. I would describe the story as a theological SF yarn.
"Catch the Thief" is for sure not an ordinary detective or mystery story either. It is about thieves' stealing ideas and inventions from different planets and distributing the ideas and inventions to other planets — like a kind of universal Robin Hood organization in outer space. The detective hunting the thieves becomes, shall we say, "a reformed sinner" at the end. It is a rather philosophical story.
The seventh story, "The Mummy Takes a Wife," is a hilarious yarn, as if John Dickson Carr and P.G. Wodehouse had cooperated to create a plot for the Marx Brothers. The story moves in all kinds of crazy directions with real and fake mummies running around on board the luxury liner Queen Victoria on its way from Southampton across the Atlantic Ocean. It includes a fake mummy murdering another fake mummy, a scarab that turns men into compulsive lovers and has other stunning properties. The story shows that a mummy revived after some 2000 years or more does not necessarily have to be a bad thing, contrary to what Hollywood has taught us over the decades in the 20th century. And we all know about old men marrying young girls, but this love story tops it.
The Zeitgeist shows its face here and there in Robert Randall's stories: women — and at least one man — swoon, something they hardly do in modern fiction. And at one point it is said that a young woman deserves to get her bottom smacked. But that is more quaint than disturbing.
All in all, this collection is an experience with a difference, proving what with a few exceptions every single short story collection published by Crippen & Landru shows: great short fiction, though now forgotten, was written in the past.
Copyright © 2009 by Bertil Falk