Sea Pilot on the Smokestack
by V. Ulea
part 1 of 2
The attachment to home is much stronger
When your way to it goes through the rain.
All the obstacles — pipes on the corner,
Uphill slopes — gain their meaning again.
All the lands merge together, washed out
By the tears, by the streams, by the seas.
In the rain they have so much in common
Since the language of silence — all speaks.
Like the note, with one foot on the pedal,
Resonates on the window each drop.
In the rain you'd abruptly remember
What you once thought had forever dried up.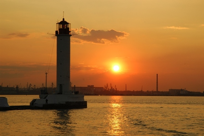 Do I really want to return there, into those native walls that hindered and at the same time secured me, to those faces which rejected and at the same time attracted me, becoming impressed forever in the image of late autumn? Do I really want to return to that city with the lighthouse and the majestic stairway to dodge among the mysterious backyards with vine leafs twined around latticed balconies? Perhaps I'd like to return to the time but not return to the place. I'd like to return to my friends' steps, and my Dad's quiet voice, and the noise of a trolley, and the foggy morning with a groaning pigeon and be like many years ago and a little bit like today in order to value better my past.
The early pigeon's voice resounds,
Like someone's grieving, all alone —
A sleeping prisoner, aroused,
Susceptive to the light of dawn.
No other sounds in the world,
But this one tapers, and grows higher.
The gilding on the parquet floor
In the corner containing the spider.
The luxurious sun calmly plays,
And the pigeon continues to moan.
And you can grasp his song today,
If, like him, you're on your own.
* * *
I hear his steps along the street. He is hurried. What happened? He was supposed to be on watch... Was it canceled? The city is covered with the snow, and the sea shines motionlessly in ice. My throat doesn't hurt anymore. We'll drink tea with honey together and read the book... Or I'd better cover myself with a blanket, close my eyes and listen to the stories from his childhood.
"I have to change. I must leave in a minute. How do you feel?" he asks.
A warm sweater pounces upon him like a hairy beast and tightly grapples him.
"How are you?" he repeats, touching my forehead. "You're much better now. Tomorrow you'll be fine. Pumpkin, I have to go."
"Daddy, wait! Take a seat... please... just for a few seconds!"
"Oh well!" He laughs then takes a seat on the edge of my bed, and so he remains with me forever.
Life gallops, making cracks in people and buildings, but we keep sitting on the edge of the past and the present, and our house slightly rocks like a ship that will soon embark on a celestial journey.
* * *
After his death I discovered his diaries. The notes were interwoven with his poems and lyrical digressions which made them look like literary sketches, though they'd been written between his watches and he never edited them. Through them I discover an unusual fate of my Dad who several times had managed to escape death. I even thought about yet another title for this film: Three Unrealized Deaths of My Dad.
Indeed, death followed him from his early age. On November 13, 1941 the ship on which he was serving as a sailor was bombed. Only two people managed to survive: my Dad and another man, who later worked with him at the Odessa seaport. Dad managed to save that very first diary in which he wrote about that fatal day. The next day, on November 14th, he had his 18th birthday...
I'm starting my new notebook. Unfortunately, all my previous diaries perished together with my friends [words illegible], so... [words illegible] I wouldn't survive and we... [words illegible].

Maybe someday I'll remember all this and will rewrite that small notebook... But now it would be very difficult for me to recollect everything I went through.

1941. The beginning of November. This is the date of my current notebook. It's amazing how fickle fate is! What does the future hold for me?

The day on the eve of my 18th birthday will be in my memory forever. It was November 13th. Oh, how I hate that number! You become a fatalist against your will, though you realize that it's absurd. I clearly remember those pale, scared faces, a hand holding a pistol near a man's temple, thick puffs of steam clouded everything, and the ship slowly sank in the water... The pictures of death...

I'm worried about the absence of news from my mother and my sister. The connection with my Dad has been lost since he went into the army. Where are they? What happened to them?
* * *
Meanwhile, the family flees from the occupied city along with other refugees. They carry no luggage, but heavy baggage is in their hearts. Just before their flight they receive two "killed in battle" notices: one is in regards to my Dad; another one, his father.
The letters arrive on the same day. My Grandma opens them. Her hands are shaking. My Great-grandma only glances at them and says, "Your husband is dead. He is not coming back. But your son is alive. Don't you dare mourn for him!"
* * *
The bombing of the ship didn't stop death from trying again. In his diary of 1942 he writes the following:
I experienced the same thing as in November, but it's even worse now. This damned city of Kerch will never be erased from my memory. They bombed us four or five times a day, coming in groups of four to twelve airplanes. Soon we'll be out of missiles, though we try to use them economically. Yesterday we had a massive raid. We had been standing on roads outside the city for four days. The entire canal was illuminated by massive explosions. The air was filled with the roar of missiles and bursting bombs. We were in the middle of this Sodom. Three bombs exploded in the water, a hundred meters from us. They were probably intended for us.
Well, one can only guess what the reason was for keeping the ship in full view of the enemy. But fate was merciful to it and, therefore, to me. Life goes on.
First Love

A few days ago a group of girls — telegraphers — arrived from Baku. The same day I froze my right ear and it became shiny and big like an oily pancake. Among the girls there was a very pretty one... Well, she was okay: skinny, black hair, not very tall. I liked her, but I wondered if she'd be interested in having a serious relationship.
Thus, the new page of his life in wartime begins, the page that could be titled "First Love."
I had my first conversation with L. It amazes me how quickly we've become soul mates! Just yesterday we were two strangers and now... I love her! I think she loves me a little bit, too.

A day after tomorrow my ship's going on a casual cruise. Today I stopped by to see L. The meeting didn't last long, but I had a chance to see her, to talk to her. In the evening we met again, she visited me in my cabin. We chatted a little, and then I accompanied her to her place. I'm completely in love with her and if we'd have to part with each other it would be very difficult for me.
* * *
You had loved me — before
The arrival of friends,
Their questions.
You had loved me. The snow
Covered streets and the past —
All we'd cherished...
You had loved me against
Common sense,
Common words,
Common orders,
But with everything else
Love was just in accordance.
In the depths of the frosts,
You'd made love.
Your intention was simple.
And your love was no worse
And no better
Than a blizzard...
* * *
From the diaries, I learned that my father had written poetry. It came as a surprise. I knew that he was a journalist and a published writer, but I'd never seen his poems and he never mentioned them, even when he discussed my own with me.
His diaries revealed to me that his very first poems appeared at the time when he fell in love with L., and the most surprising thing was that the page with that very poem remained safe. I was able to read it in the way he was able to read my own first poem years ago...
Today we left for Kamysh-Bouroun. I said goodbye to her at the ship. In the morning I thought about her and I wished I could see her again. I took a piece of paper and began to wander over it with a pencil. Accidentally, my pencil drew a letter "L." I decided to write her a letter, but nothing came out of it. And then, without even noticing, I began to write something which reminded me of a funny draft of a poem. The opus had no literary merits, but it was my first attempt to rhyme my thoughts. Here's what I wrote:

It was chance that had brought us together.
In the quiet twilight we met.
And the evening was peaceful and tender.
As if dreaming, "I love you!" I said.
I remember our shotgun partings
And the whispers of farewell words.
Shaking hands, we secretly wondered
If we should be prepared for the worst.
O, my love, would you ever forget me?
Would this night that united us once
Bring the news that we are separated,
That you love me no more — alas! —?
As to me, I will always remember
The unquenchable light in our eyes,
Our looks — so sincere, so tender...
They required no words from us.

* * *

So, I continue. It's May 25. Today I received a sad letter from my mother — it's the first news, and then I found out that yesterday L. left for Rostov. I have no idea why she didn't say goodbye to me. I have a feeling that our story has come to its end. I loved her very, very much, and she loved me. We dated every evening. How wonderful it was then! We had no secrets from each other. Everything was so smooth and all of a sudden it collapsed. Yesterday she left for Rostov... Perhaps, this is the end.

In but a single moment, months have fled,
The parting hour is now here, alas.
And at this time — with sorrow and regret -
I feel — the distance has divided us...

Tomorrow I'm planning to write to my mother and cheer her up. I'm still waiting for a letter from L.

Dear Mama! You're always in my thoughts. Oh how much I'd like you to be happy! Our ship is embarking on a casual cruise. The customs examination is over and so are all the formalities. I'm sitting at the desk in a small but cozy cabin. It's very quiet here and roaches smile tenderly at me from the ceiling. It's evening, a late March evening in 1944. What's ahead?

Oh how many thoughts and doleful winds,
And waves monotonous, and cheerless meditations
I left there, in the land of the misty skies
And the old grey ocean...
My love, for you this song!
Stop wailing blizzards! Go away, you, serpents!
My dismal doubts-dreams, do you hear me? Stop!
Don't put out the light,
Don't blow out the candle,
Don't freeze my heart!
I know — desires are mortal,
And so are friendships, passions, even love...
All secrets when I die will be unveiled...
But what is left then in this world for me?
Just memories about days of longings,
Of worries, of hopes, of fears...
But all the rest...It can't be resurrected...
* * *
Did he finally receive a letter from L.? The next record is from 1944, which he briefly mentions in the middle of the page. There, the indiscrete universe of his diaries' time doesn't break into days. L. is missing, but the nostalgia either for her or the past still hovers in the pages undivided by dates. Did he really love her or was she just the edge of the shore, a haven for his soul deafened by constant bombings and desperately longing for love? This will always remain a subject for our speculations. We know only that he had lost his first love. Life and war both consist of losses...
Depart forever...
Could be a salvation...
A tiny nest
Without any passion,
A whiff of a cigarette,
A conversation
With a random guest...
A quiet view on a deserted drive
Where all events eventually will die,
The evening that is running idly bad
By the routine of the revolving earth —
What could feel more ill-starred than that,
Or more relaxed, or lost?
* * *
I tried to find out more about L., looking through his diaries, but there was nothing more, not a single mention. Still, judging by the sad tone of the last note, I assumed that perhaps something tragic had happened to her, something that he didn't want to discuss on the pages of his diary. In the last short note written in 1942 he says the following: "It's September already. It's been three and a half months since that day. My life has been changed a lot..."
What kind of changes was he talking about? What did he mean by "that day"? This has remained a mystery.
In the 70's, however, he wrote a novel, A Golden Tadpole. The novel is about a first love during WW2. In the novel, the young lovers meet in the middle of May — the month of L.'s disappearance — and at the end the heroine has tragically perished. I don't know if the novel was based on the real events and whether or not L. was the prototype of the heroine, but in any case he clearly wanted to return to that time and to tell us the story...
Interestingly, the entire novel is written very emotionally, and only the news about the heroine's death is represented as an official note in the ship's journal: "2.50 pm. A patrol boat approached the ship. The hold was flooded. A chief mate was found in critical condition along with the body of a girl telegrapher."
Copyright © 2009 by V. Ulea