Anthony Boucher & Denis Green,
The Casebook of Gregory Hood
reviewed by Bertil Falk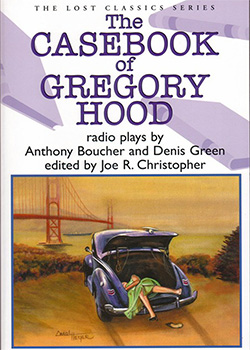 The Casebook of Gregory Hood

Author: Anthony Boucher & Denis Green
Publisher: Crippen & Landru 2009
The Lost Classics Series #28
Editor: Joe R. Christopher
Cover art: Carol Heyer
Cover design: Deborah Miller
Length: 262 pages
ISBN: 978-1-932009-83-8
Literary critics are often hated because they talk down to the authors and tell them what they should have written instead of reviewing what they have written. Not so when it comes to Anthony Boucher. He was popular. Why? Because as a reviewer, he had two rules he stuck to:
1. He asked himself: What does the writer want to say with this story? And when he thought that he had found the answer to that question he asked himself:
2. How has the writer succeeded in realizing his intention?
When he thought that he had found the answer to that second question, he wrote his review, keeping to himself his own private preferences. Therefore, the review had a tendency to be so balanced and fair that the authors liked him even when his response to a book was lukewarm. That probably explains why the annual world mystery convention Bouchercon is the only convention — or the only anything, for that matter — named after a reviewer.
Now, Anthony Boucher (1911-1968) was a much more multifaceted individual than most of us are. In The Compleat Boucher (The NESEA Press 1999), which contains all his sf and fantasy stories from the first one, "Snulbug" (1941) to the last one "Man's Reach" (1972), published four years after Anthony Boucher's death. James A. Man titled his preface "The very model of a Science Fiction Editor... and Writer... and Critic... and..."
Anthony Boucher wrote mystery, fantasy, science fiction and horror. He loved opera and sports. He was one of the two men who launched The Magazine of Fantasy and Science Fiction. He translated texts from French, German, Italian, Spanish, Portuguese and, on top of that, he is said to have been good at Sanskrit. He wrote plays and, during his years in college, he was an actor and a director. And so on. And so on.
The magazine Anthony Boucher and J. Francis McComas launched in 1949 was at the beginning called The Magazine of Fantasy, but in the second issue the title was extended with & Science Fiction. Cover: Bill Stone
Thus, a never before published collection with mystery plays by Anthony Boucher in collaboration with Denis Green (1905-1954) from the Golden Age of Radio is an event that should not be passed over in silence. The Casebook of Gregory Hood (Crippen & Landru 2009) includes 14 complete radio scripts. It is #28 in the publisher's excellent The Lost Classics Series.
In these plays, the clever listener or reader is given a chance to solve the problems along with the amateur sleuth Gregory Hood. That's the way the plays were written. In other words: the stories are in the tradition of the golden age of mystery as well as of radio.
According to Boucher and Green's formula, Gregory Hood was a San-Francisco based travelling antiques dealer and a kind of unlicensed private investigator who has a sidekick, the lawyer Sanderson "Sandy" Taylor. A real life SF-dealer, Richard Gump, served as a model for Hood.
The structure was of a very ancient kind, a frame story where Gregory Hood and his friend tell Harry Bartell a story from the casebook of Gregory Hood. It is a literary method well known from The Arabian Nights and much older than that, since it was used in the Sanskrit work Panchatantra more than two thousand years ago.
Boucher had had an iron in the mystery fire works of the Ellery Queen radio show and Green, who was British, had been scripting Sherlock Holmes radio plays together with Leslie Charteris, the creator of The Saint. Consequently, they both very well knew how to handle a grindstone, and the 14 plays they wrote for their private sleuth belong to the best-plotted scripts within the 25-minute limit of mystery radio.
To the mystery addict, the plays are worth reading because of the clever plots. To the old time radio addict, they are worth reading for, well, radio reasons.
To the ones who are interested in structuring plays, be it radio plays or stage plays, they have a good many methods worth studying.
It's one thing is to see a play performed; it's another thing to listen to a play; but reading play scripts is something else entirely. Many people find it difficult to do that. For those having a problem in reading plays, some of the stories that Anthony Boucher plotted and Denis Green scripted in 1946 can be read while simultaneously listening to the actual broadcast.
As I write this, I am listening to "The Three Silver Pesos." It was broadcast on June 3, 1946. You can find it among other Old Time Radio sites on the Internet.
"The Three Silver Pesos" was the first of The Casebook of Gregory Hood plays that went on the air. It replaced The Adventures of Sherlock Holmes, featuring Basil Rathbone, which had run since 1939. The now published collection from Crippen & Landru contains 14 stories.
Besides "The Three Silver Pesos," I have read and listened to "The Black Museum," "The Adventure of the Beewax Candle," "Murder in Celluloid" and "The Derringer Society," which are all included in The Casebook of Gregory Hood. Unfortunately, parts of "The Black Museum," which I downloaded, seem to be reproduced from a scratched recording. It sounds almost like the Voice of America disturbed by a Russian jamming station during the Cold War.
In "The Adventure of the Beeswax Candle," Sandy and his wife Mary get lost while driving in the fog. They hear a scream. He stops the car, Mary jumps out and disappears in the fog. Sandy doesn't know where she is, but before she left the car, they had heard a clarinet player, a very good one, sounding like a professional.
Gregory calls Benny Goodman and asks if he knows a professional clarinetist in that area. There's a lengthy conversation between Benny Goodman and Gregory Hood. Here we get an insight into how Boucher/Green worked. They wanted to use either Benny Goodman or Harry James in the story. They used Benny Goodman, but Joe E. Christopher tells us that according to penciled changes on the script, the staff got permission to use Harry James' name.
And here is a quotation from "The Black Museum" that is essential for the understanding of Gregory Hood and his procedures.
SANDY: But Gregory, why are we going to the office instead of Markham's home?

GREGORY: You know my methods, Sandy.

SANDY: As well as you do, which is that you make 'em up as you go along.
Which leads us to following dialogue at the end of the play:
SANDY: Sure. But this barfly that died, Gregory, why didn't you tell me?

GREGORY: Because I only dreamed it up now.
Anthony Boucher is still remembered. Denis Green was probably not enough known to be as much as forgotten. Even though his name was mentioned before Boucher's when the plays were announced on the air, he was in reality one of many anonymous contributors to the radio scene. But in his introduction to the 14 plays, Joe R. Christopher puts some flesh on the bones of Green's skeletal biography.
If you would like to read an excellent science fiction story by Anthony Boucher, try to find "The Quest for Saint Aquin," originally published in Fantasy & Science Fiction, January 1959, and found in anthologies.
Let me finish this as it began. Discussing criticism! There is a theory that critics are people who wanted to become writers but could not make it and therefore they take out their frustration on more successful authors. That may sometimes be true. In any case, when it comes to Anthony Boucher, the opposite can be said. Since criticism was only one side of his talents and he was a successful writer and editor as well, he certainly had no reason to be frustrated, which might explain his soft and calm approach to criticism.
Copyright © 2010 by Bertil Falk