Loren D. Estleman, Valentino: Film Detective
reviewed by Bertil Falk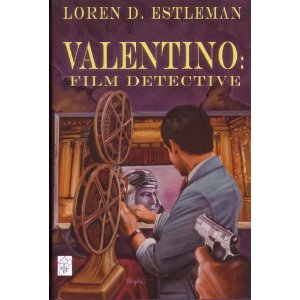 Valentino: Film Detective

Author: Loren D. Estleman
Cover illustrator: Carol Heyer
Publisher: Crippen & Landru
Trade soft cover: $17 U.S.
Length: 210 pp.
ISBN: 978-1-932009-96-5
Ever since Conan Doyle created his serial crime-buster, writers have tried to come up with their own very special detectives. We got Jacques Futrelle's Augustus S.F.X. Van Dusen, called The Thinking Machine; John Dickson Carr's Bencolin; Agatha Christie's Miss Marple: Dashiell Hammett's Sam Spade and so on. And among latter-day mystery writers, Loren D. Estleman came up with a sleuth of moving pictures.
Name-dropping has a bad reputation for good reasons. It is often used in order to enhance one's social status: "And then I advised Obama not to..." or to suggest knowledge within a field by using the name of Einstein or some other individual, suitable for the purpose. Name-dropping may be a minor sin, but behold: prolific mystery writer Loren D. Estleman has been able to make a virtue of that sin.
He has done it in his stories about the film detective Valentino. Fourteen stories were published in Ellery Queen's Mystery Magazine between 1998 and 2010 and they are now collected in one volume, Valentino: Film Detective (Crippen & Landru 2011). The name Valentino suggests a relationship to one of Hollywood's legends, but even though the features of this particular Valentino reminds one of the face of the original Valentino of the silent films, they are not related.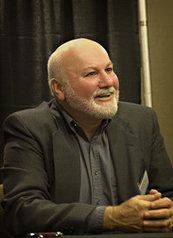 Loren D. Estleman
Estleman's Valentino is an archivist, a film historian and a footage archeologist under contract to the Film Preservation Department of UCLA. His business card says Film Detective. While digging for lost nitrate films of the era of silent movies, he stumbles over skeletons and other forms of dead people. The mystery plots are good, and in a sense, exciting.
Estleman in a preface mentions "Kevin Brownlow, the genius behind the greatest cinema finds of the last century" as an inspiration for Valentino:
"The idea was a natural, and after nearly ten years I can't get over the fact that no one else beat me to it. Mystery writers have plundered Hollywood and the cinema of plots for decades, but it never occurred to any of them that an archivist whose job is to circle the globe assembling bits and pieces of celluloid is uniquely suited to solving puzzles connected with murder."
One important thing with the stories is that Estleman has found an appealing way to tell a narrative taking place in Hollywood. His yarns possess a cineastic atmosphere, hard to match. Estleman recreates Hollywood past and present by dropping names of movie stars and films in a way that would turn compulsive name-droppers green with envy. Here is a small sample of a dialogue from "The Frankenstein Footage" (EQMM, July 1998):
After ten minutes, the film detective was invited back into Lysander's office. The atmosphere seemed warmer.

"Are you familiar with an old-time director named Robert Florey?" the lawyer asked. "The Murders in the Rue Morgue. Universal, nineteen thirty-two."

"Also Frankenstein."

"That was James Whale."

"Not at the start. Florey, who wrote the screenplay, was to direct the picture originally as a vehicle for Universal's hottest property."

"Bela Lugosi," said Valentino. "The star of Dracula. He tested for Frankenstein, then backed out."

"I forgot you're a historian. Florey shot two reels of Lugosi stumping around in a costume and makeup of his own device. No one was happy with the result. After Lugosi left, the project was taken away from Florey and given to Whale, who assigned the role of Frankenstein's monster to an unemployed truck driver named William Henry Pratt."

"Boris Karloff."
But Estleman is doing more than that. The stories are sprinkled with statements and descriptions of a cinematic kind. In "The Frankenstein Footage" we find that:
His office was a shoebox in a building that had once been part of the university's powerplant, cluttered with film books and piles of video casettes, but he had partial use of a secretary named Ruth, iron-haired old dragon that she was. She fixed him with her gray, polished-stone gaze when he walked in a little after eight. "You look like Georgie Jessel the morning after he turned down The Jazz Singer", she said.
In "Picture Palace" (EQMM, July 2000) we read:
Her car was tiny even by modern standards, a classic. Riding in it, he felt he'd stepped into a frame of The Bicycle Thief.
And in the same story we have:
The police inspector's name was Cabrini. He reminded Valentino of Claude Rains in Casablanca, minus the urbanity.
"The Frankenstein Footage" supplies us with the following information:
The office was decorated to resemble a dungeon, complete with clammy stonelooking wallpaper, a ceiling fixture that might have been the chandelier from the original silent The Phantom of the Opera...
And in "Garbo Writes" (EQMM, February 2007) we have this little gem:
"She has a sense of humor. I told her she looked like one of those dancing hippos in Fantasia. She didn't hit me where it shows."
People, things and situations are described like or looks like or compares to something out of the legends of tinseltown. And instead of being boring, it actually works. Estleman walks a fine line and does not overdo it.
For this is a world were all people involved eat, breathe, live and die — even murder — filmmaking around the clock. It comes naturally. We enter a world of props and posters, film magazines and myths. Estleman's Valentino is the fish in that pond. Most certainly he shared babysitters with his originator: Clark Gable, Katherine Hepburn, Boris Karloff and Rin-Tin-Tin.
In what sense are the stories exciting? In my opinion it is the way Estleman mixes fact with fiction. To an ordinary reader, the scar formations after his surgeries are seamless; only a film historian or a knowledgeable fan would see the border between reality and fantasy.
In that way "Greed" (EQMM, May 2002) and "Garbo Writes" are minor triumphs, even though I doubt that the Swedish Military Archives is the place in Stockholm where letters written by Garbo are to be found. Maybe Estleman knows something I don't.
In "Greed", Erich von Stroheim's monsterfilm Greed has its given position. This ten-plus hours long feature was cut into pieces, first by von Stroheim himself, who shortened it. Others finally cut it down to manageable Hollywood length and destroyed it. What if bits and pieces of the footage that fell to the floors of editing rooms could be retrieved! That paves the way for a fine sentence:
"Greed? You ought to open a window in your screening room. You've been breathing acetate."
The find of a skeleton in the vault where the footage is found adds to the plot and and we have a masterly structured story that entertains our criminal as well as our cineastic yearnings.
"Garbo Writes" begins in an orgy of Garbos. A fancy-dress party has been convened to celebrate the 100th anniversary of her birth.
She excused herself and went that way, leaving him alone among two or three dozen women dressed as Garbo in her various movie roles: disguised as a not-very-convincing young man in boots and jerkin from Queen Christina; hauntilIy amnesiac in platinum-blond hair and elegant evening dress from As You Desire Me; gung-ho Stalinist in severe suit and cloche hat from Ninotchka. He counted no fewer than five Anna Christies and as many Mata Haris, although none as bewitching as Harriet Johansen wearing that outfit. She bore an amazing , resemblance to her inspiration, a fact Valentino hadn't noted until she'd revealed herself in costume.

There were fat Garbos, old Garbos, black Garbos, an Asian Garbo, and one or two Garbos wearing powder over what looked like five-o'clock shadows. Among the escorts was one very good Erich von Stroheim, several John Gilberts, and three Charles Boyers attempting to look Napoleonic in Conquest. Valentino himself wore an imperial Russian uniform and a thick Ramon Novarro mousche, cemented with spirit gum to his upper up. He'd have preferred to go as John Barrymore, but that would have been the wrong movie.
Estleman is here able to create a probable plot out of rumours and facts, blending them with imagination and churning it all into a most entertaining story. The other stories are similarly good, but I consider "Greed" and "Garbo Writes" to be the best ones.
Hollywood, the spot on earth, and Hollywood, the legacy of the film industry, is probably the only place fitting for stories like those about Valentino. I don't know of any fiction like it, and I can't really dream up a similar spot. An Indian writer could, of course, use Bombay's Bollywood and drop names of actors like Amitabh Bachan and Rekha and titles like Scholay and Woh Kaun Thi?"
But besides the film industry, where is there another industry supplying similar material for a writer? Until someone finds that gem, I think that we must consider the fourteen Valentino stories as one of a kind (or should I say fourteen of a kind?) If anyone disagrees, please prove me wrong!
| | |
| --- | --- |
| | A rare photo taken in December 1924 just before Hollywood. Greta Garbo in Istanbul (Constantinople) with the Hagia Sophia as a backdrop. The man to the left is the filmmaker Ragnar Hyltén-Cavallius and the man between him and Garbo is Einar Hanson, who later played against Clara Bow in Children of Divorce and against Pola Negri in Fashions for Women. Behind the camera was either Julius Jaenzon or Mauritz Stiller. |
In 2006, using different rare sources, I put together a story involving Greta Garbo for the Swedish DAST Magazine. It so happened that Vladimir Semityov, a Russian writer, who had fled the revolution through Istanbul (Constantinople), arrived in Sweden on March 22, 1923. He wrote a melodramatic story taking place in Istanbul and showed the manuscript to the director Mauritz Stiller.
Based on that manuscript Stiller made a synopsis, which has been preserved, for a film called Konstantinopel. Mauritz Stiller went to Istanbul together with his protégé Greta Garbo, filmmaker Ragnar Hyltén-Cavallius, cameraman Julius Jaenzon and actor Einar Hanson. But the German film company behind the project went bankrupt. Three of those five people were accustomed to standing behind a film camera. Did the team shoot any footage? I think that it would be a job for Valentino. He could find out, if anyone could.
Copyright © 2011 by Bertil Falk