M. K. MacInnes, Close Call
reviewed by Colin W. Campbell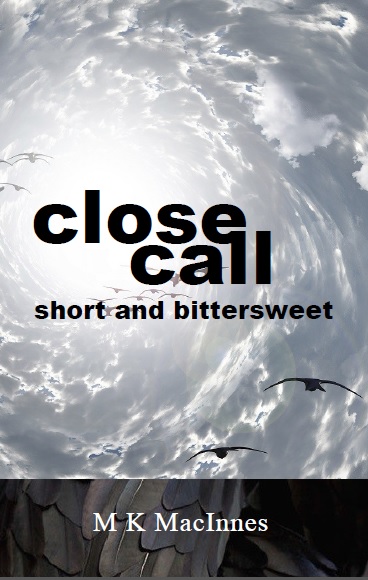 Close Call

Author: M. K. MacInnes
Publisher: Red Terrier, 2015
ISBN: 978-0-9555892-1-8
The Serpent and the Bicycle
Fresh storytelling springing from a strong oral tradition in the very depths of the Scottish Highlands. Today it slips into a digital format just as easily as it might go down with a single malt.
"The Serpent and the Bicycle" is a short story of some 3,600 words based on a fine sense of place and time starting off with a road in the Island of Skye under the dark shadows of "the Great War" — World War I. This is where a tall story might just be the only possible explanation when it is carefully sipped over a thoughtful dram.
Expect strong story-telling and careful details, such as the tipping point of a life might be launched by a bicycle and a serpent or perhaps set out on a different road with shiny new boots on, or rather below, the brighter streets of Glasgow.
The story engages the reader as diverse threads are woven into a wide Highland plaid, shaded by real events and real people, as glimpses of past times come down over the generations.
Like a good malt, a good short story deserves to be individually reviewed. I should like to say Slainti to a story taken from an eclectic collection as the whole easily crosses genre as light tales are blended with memories and raw emotions. Much is revealed as the writer shares much of herself from personal experiences and more.
Disclosure: Of course M. K. MacInnes is a friend. What's more, she kindly mentioned me in the Foreword of the collection. So how could I not write a review? Fortunately the book is so well written that I can review it without guilt or conflict.
Copyright © 2015 by Colin W. Campbell