Joe Haldeman, Work Done for Hire
reviewed by Don Webb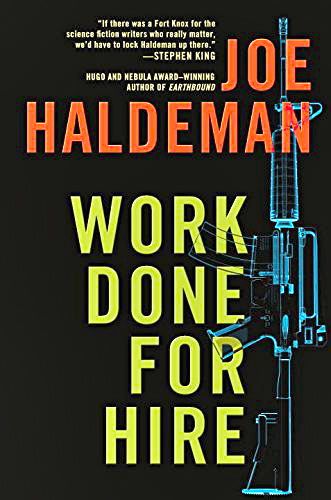 Work Done for Hire

Author: Joe Haldeman
Publisher: Penguin Group:
Ace Books, 2014
Length: 291 pp.
ISBN: 978-0-425-25661-9
Semi-spoiler alert: This review article summarizes the plot of the novel. It also explains why no "spoiler" seems possible.
---
Science fiction aficionados know Joe Haldeman; he's been around for more than forty years now. Some of his novels have won the most prestigious awards in science fiction, and he has served in important positions in writers' organizations. However, if you're unfamiliar with the author's works, I can give you some friendly tips.
By all means, start with The Forever War (1975). It uses "hard" science fiction to do for the Vietnam War what Eric Maria Remarque's All Quiet on the Western Front does for WW1. Almost inevitably, Haldeman's and Remarque's novels are similar in structure, and even Haldeman's title seems to translate Remarque's Im Westen nichts neues, though without the irony.
Next, read Mindbridge (1976). The author himself has said at one point that it was his favorite. I can understand why and have gladly reread it, although it's my second choice.
All My Sins Remembered (1977) is a "sleeper," a novel about a future covert operative. It's important for the sinister, tragic mode it brings to the genre of espionage literature.
A short story collection, Dealing in Futures (1985), sparkles with some gems of humor. There Is No Darkness (1983), another "sleeper," contains some earlier works and was written in collaboration with the author's brother, Jack Haldeman. As a novel, it's incomplete, but new writers will find in it depictions of characters, action and settings that provide models of economical and yet effective narration.
I've read most, though not all, of the rest of Mr. Haldeman's bibliography and can say that the titles I've mentioned are the ones I find interesting.
* * *
Mr. Haldeman's latest novel, Work Done for Hire, is a kind of intermittent frame story. The first-person narrator, Jack Daley, is an army marksman who is now a veteran on a disability pension. He has had violence issues but seems to be recovering with the help of a loving and supportive partner, Kit Majors.
Daley contracts with Ronald Duquest, a film producer, to write a book as the basis for a horror movie. With everything in place, Jack enthusiastically undertakes the project.
The embedded story consists of the chapters that Daley cranks out intermittently for the film producer. A space alien named Hunter, from the planet Ventor, is operating as a serial killer in Georgia and Alabama. He remembers little about his past except that it was extremely violent. And he doesn't remember how he came to Earth.
Hunter is humanoid, very stocky and strong. He has the camouflage and stealth skills of a special forces soldier. He also has an insatiable appetite for human flesh and bone, which he acquires by trapping, skinning and dismembering lone hikers in remote rural areas.
Meanwhile, an unknown source has sent Jack Daley a sniper's rifle, some money, and a commission to kill "a very bad man." Untraceable telephone calls give him further instructions. He is not told immediately where to go or whom to shoot, but the voice threatens Kit's life if he doesn't follow orders.
Jack and Kit set out on a long bicycle odyssey in an attempt to escape. Meanwhile, Jack writes more chapters about Hunter. Jack's and Kit's route leads them closer and closer to the area of Hunter's operations. Will Jack meet Hunter? Is he supposed to use a real rifle to shoot a figment of his own imagination? At this point, I wish I could yell, "Spoiler alert!" But I can't; there's really nothing to "spoil."
Readers new to Haldeman's work will surely appreciate his trademark style: easy, almost laconically conversational narration. They may also find the narrator's part interesting for its candid exploration of a particular writer's state of mind; however, veteran readers will find it quite familiar.
In general, readers will find the Jack and Kit chapters suitable for such TV thrillers as Criminal Minds, and the Hunter chapters call for autopsy scenes from Crime Scene Investigation. Romance, slasher action, and the grey area between fiction and reality would make a good movie, if someone could just think of an ending.
The premise of writing a book (the novel in hand) about writing a book (the narrator's story) about writing a book (about Hunter) is clever but hardly new; André Gide's "cubistic" novel Les Faux-Monnayeurs (The Counterfeiters, 1925) uses a similar premise and is now considered a classic.
In the end, Work Done for Hire plays a joke on itself. Who knows: maybe Jack Daley's partner, Kit Majors, could have helped if she'd had a larger role. Anything to raise the story above the level of potboiler.
Copyright © 2015 by Don Webb