Tanith Lee, A Heroine of the World
reviewed by Alison McBain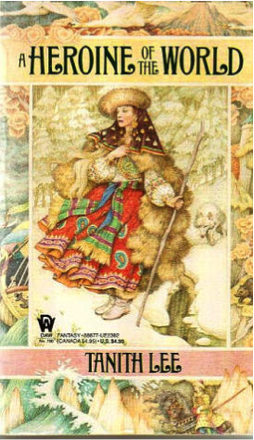 A Heroine of the World

Publisher: Daw Books
Date: August 1, 1989
Trade Paperback: 448 pages
ISBN: 0886773628; 9780886773625
Price: $4.50
In 2015, the world lost two great voices in British science fiction and fantasy. One, of course, was Sir Terry Pratchett, one of the best comedic voices in the genre. The other was Tanith Lee, one of my writer heroes or, should I say, one of my heroines. She was a pioneer in the field.
Among other awards, she was the first woman to win the British Fantasy Award (the August Derleth Award) for best novel. She has also been nominated for and/or won the Nebula Award, the World Fantasy Award, the World Fantasy Award for Life Achievement, and the Lambda Award. She wrote over ninety novels and hundreds of short stories, spanning a publishing career of over four decades.
I grew up reading her fiction, and eagerly devoured each new book she wrote. And yet, I feel she is one of the best-kept secrets of the genre. I don't know how many times I've brought up her name when in conversation about great speculative fiction writers and gotten a "Hunh?" look. Many modern readers have never even heard of her. So I thought it was about time to review one of my favorite books by Lee, an epic tale called A Heroine of the World (1989).
One of the problems I have with my own writing is coming up with titles. Perhaps it was one that Lee had as well, since the title of the book isn't exactly gripping. But the book itself is amazing; it's a mixture of poetic prose and literary pacing, a slow descent into a world ruled by fate and fortune.
The book follows Aradia, sometimes Dia, sometimes Ara or Aara; her name is as permutable as she is. The story begins shortly before her family is killed and her country conquered. She becomes the central figure as kingdoms rise and fall, learning to play both sides of the conflict in order to survive the bitter ravages of war. Throughout all the changes she must endure, her motives are simple: she follows the inevitability of love.
Lee's writing is both gothic and gruesome at times, with an equal flare of description for a child's first moment of adult shock:
"Very gradually, the whirling jewel in my brain went farther and farther off. A huge hurt swelled through me, like an organ note, a droning in my ears"
to the moment where the child has grown up:
"A moment before, out of ocean into heaven, a dolphin leaped like silver. It was lucky. The fishers nodded and called to it entreatingly, as though to a girl. The dolphin did not leap a second time. Once after all, for a blessing, had been enough."
When fate rules a person's life, every act becomes significant, from the smallest sacrifice to the gods to the largest choice of personal identity.
Lee's mastery is not just in the musicality of her language, but in language itself. She plays with the concept of transition, from language to language, from one place to another, from one identity to another. Religion is used by the characters as a commodity for change, and the central goddess appears under as many guises as the characters themselves. But, just as love is inevitable, faith is immutable for them. In the end, perhaps Aradia can find the one person who gives her stability in an ever-changing and war-torn world.
This is a novel set during wartime, and there are many events described that are both brutal and graphic. While there is a lot of action in the book, it is not an action book per se but follows a much slower, literary pacing. Perhaps this book isn't for everyone. But for those who aren't faint of heart and who are looking for a story written as beautifully and vibrantly as China Mieville's Bas-Lag series, Lee's A Heroine of the World will linger long after you read the final page. I hope you enjoy reading it as much as I did.
Copyright © 2016 by Alison McBain