Dana Bate, Too Many Cooks
reviewed by Alison McBain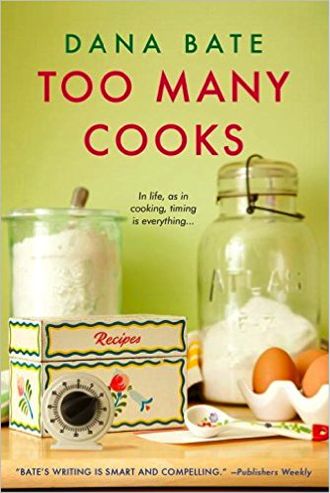 Too Many Cooks

Author: Dana Bate
Publisher: Kensington, October 27, 2015
Trade Paperback: 352 pages
ISBN: 1617732621; 9781617732621
I've been working on a number of projects, so I was in the mood for an escapist book to read, something fun and fast-paced. I am also a sucker for books about chefs, since I am married to one. So it was with the combination of these two interests that I read Dana Bate's novel Too Many Cooks.
This is Ms. Bate's second novel, and after reading it, I am going to pick up her first book, too. In style, the writing reminds me of one of my favorite romance/woman's lit writers, Kristan Higgans. Like Higgans, Ms. Bate's style is light and irreverent, with a wise-cracking main character who tends to fall into unfortunate situations.
However, that's not to say Bate is a carbon copy of Higgans, as there are a number of differences between this book and Higgans' novels. Bate's main character, Kelly, is a loner who travels from the Midwest to the UK in search of adventure, whereas most of Higgans' characters are surrounded by family and friends, and living in the towns they grew up in on the East Coast. While many of Higgans' characters tend to be a bit insecure, the main character of this novel has a sense of who she is and what she wants.
Some similarities between the authors include stellar pacing and suspense, a hopeful romance, top-rate humor, and the idea that things don't always turn out how one expects.
The book begins with a funeral, the perfect start to a lighthearted romance, right? But is works out to be a reoccurring motif. Kelly Madigan's mother has just died, but she left behind a letter urging her daughter to be more adventurous.
With that in mind, Kelly jumps onto a plane with the next job offer she receives, which is to ghostwrite a cookbook with superstar Natasha Spencer in England. But the job offer isn't quite what she expected. In fact, nothing is what she expects, from putting together an eclectic cookbook for her control freak of a boss, to late nights spent chatting with her boss's attractive husband. Kelly's search for adventure might have taken her too far out of her comfort zone and into strange waters indeed. If her mother were still alive, what would she think of Kelly's escapades?
Here's a brief snippet taken from the book:
So on I go, using my weekend to mash, blitz, and sear my way to veggie-burger perfection. This time I use chickpeas and a bit of lemon juice to brighten and lighten the flavor. Once I've completed that recipe, I move on to a new carrot salad and a recipe for the fluffiest, creamiest scrambled eggs I've ever tasted. If Natasha doesn't like these eggs, it's official: Her taste buds are up her asshole.
Although there are heavier themes touched upon in the book, such as death, adultery and the downside to fame, none of them stray too far from the genre or leave a reader feeling dissatisfied. Everything is resolved in the end, one way or the other. It's a fast read, and I'd recommend it for someone looking for something light and fun.
Copyright © 2016 by Alison McBain