A. Rahman Ford, Life as a Sclerian:
Poetry on Politics and Periphereality
reviewed by James Robert Rudolph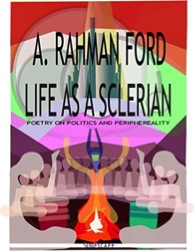 Life as a Sclerian:

Poetry on Politics and Periphereality

Author: A. Rahman Ford
Publisher: Sensescape Publishing
Date: April 21, 2016
ASIN: B01ENPSG6W
Mr. Ford, an attorney with an Ivy League doctorate in political science, states in the preface to this poetry collection that although his doctoral dissertation addressed many areas of comparative politics, about which it is clear he feels very strongly, including human rights, ethnicity, gender, and race, "I found my effort insufficient ... my dissertation was not human enough for me ... I wanted to make people ... not only think but feel politics." It is from this stated aim that Life as a Sclerian: Poetry on Politics and Periphereality came into being.
With elements of narrative and epic poetry, Mr. Ford tells, in his words, "a short story in poetry." It is the tale of a fictional oppressed people driven from their homeland under threat of genocide, the experience of their oppression told through the lenses of race, gender, disability, nationalism, patriarchy, colonialism, misogyny, and economic inequality, among others. I use the word 'lenses' deliberately, as the organizing principle, or "extended metaphor" as Mr. Ford refers to it, of this collection is that of "peripheral vision":
It uses a composite of historical episodes and political archetypes to craft a narrative around how the particular spatial position occupied by a people as seen through the eyes of a particular gazer eventually comes to affect how those people view themselves in relation to others whose position is more privileged.
Mr. Ford crafts the two dozen or so poems of this collection using a variety of poetic and publishing devices including alliteration, free verse, rhyme, colorized words, and physical placement on the page, often to good effect. For example, the following excerpt taken from the collection's first poem, "Life as a Sclerian," tells of a privileged people who live in color, beyond the darkness of the sclera, where the exiled people abide:
The verse of many poems is graphic, unsparing, and explicit; there is a decidedly provocative and charged tone to Mr. Ford's word choices. He acknowledges in the preface the collection reflects in part his own struggles involving his identities as a black man and a disabled man, and there is a sense throughout the book that Mr. Ford is not interested in mincing words or blunting impact, as displayed in this excerpt from "Ocular Excommunication," referencing the genocide of the indigenous Sclerians by the Pupillaries, their oppressors: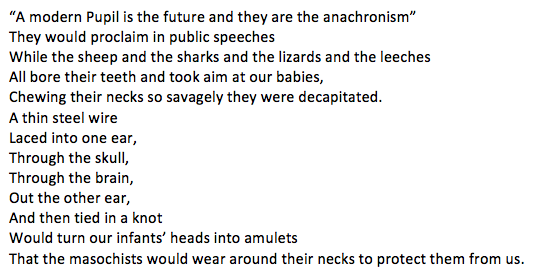 As sensational as the images at times are, I did not find them gratuitously so. These poems are often psychologically and literarily dense, complex creations conveying layered, intelligent, at times abstracted and almost always powerfully delivered messages, political without question but equally artistic. As you will have undoubtedly gathered, this is not a breezy read, nor is it, if I understand Mr. Ford's intent, meant to be; at points throughout there is a quality that one could argue approaches the excruciating. And yet it is not unrelentingly bleak either, as an excerpt demonstrates from one of the last poems in the collection, "Transplantation into Bioluminescence," in which the oppressed Sclerians come to recognize, through an epiphany, their own inner salvation: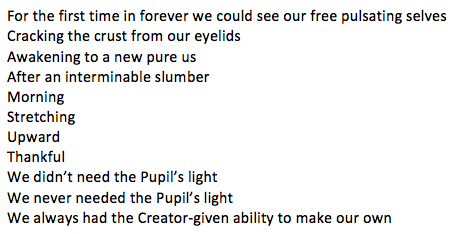 Often important work does not go down easy, and this is a serious collection that leaves its mark on the thoughtful reader. As Mr. Ford explains, "Art allows for the proposal of radical ideas ... art presupposes the possibility of immediate seismic change." Mr. Ford's impressive collection certainly illustrates this belief.
Copyright © 2016 by James Robert Rudolph