Isabelle Kenyon, This Is Not a Spectacle
excerpt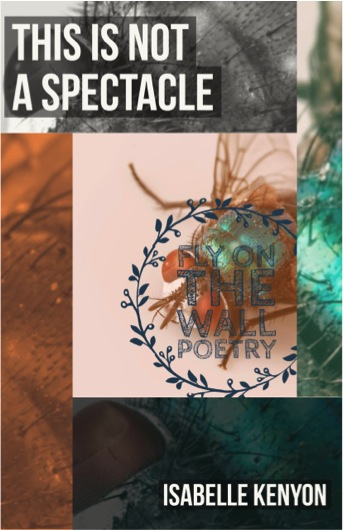 This Is Not a Spectacle

Author: Isabelle Kenyon
Publisher: CreateSpace
Retailer: print; e-book
Date: Sept. 4, 2017
Length: 24 pages
ISBN: 1976074894; 978-1976074899
The chapbook explores our diverse society, exploring taboo subjects, people and events which, in turn, repulse and intrigue us. This Is Not a Spectacle is the first anthology from Fly on the Wall Poetry.
This Is Not a Spectacle
Here lies a horse-man,
Chained to St Peter's square by invisible cord,
Marble eyes rolling in blackened sockets,
Contoured by dirt and grime:
HELP. FIRST AID.
Foetal-curled,
his hooves feebly strike sodden ground where colourless dribble pools,
A snake- trail from chapped lips down pale, wafer skin.
One man shoots him a poisoned barb:
I KNOW HIM. HE'S A DRUNK.
Brands him lame, unfit for purpose;
Leaves him to bleed.
A farmer will not name his stock,
But would shoot an animal in pain.
---
This Is Not a Spectacle by Isabelle Kenyon is a chapbook that penetrates deep into the social psyche through the textual augmentation of its words and themes.
The opening poem 'billows' with stayed emotions of love and of loss. The focus is loss and the relative isolation of the 'I' since that time, which is translated through the architecture of the poem:
'Green Light/Green-so you walked, flew, crumbled,/broken but you/Only wanted to talk about me,/...'
The poems relating to the everyday experience of being a woman are signposted via the rhetoric of objectification and submission using text to shout out and Kenyon is unafraid to challenge political language and badge wearing:
THAT I OBJECT TO, / WE ALL DO, / US 'FEMI-NAZIS,' / US 'OPINIONATED WOMEN,' / SO IT MUST BE ENGLISH POLITENESS, / SOCIAL NICETIES WHEN I PICK UP MY RAZOR, / WET IT, / APPLY...
All these poems are demarcated for dramatic impact and make use of linguistic connotations, the choreography of meaning, which opens the potential of the poems to renew each time they are read.
The collection is moreover a eulogy to Kenyon's grandmother and pays tribute to the politics she believed in and the private issues that punctuated her life: war, disaffection, disability, age, feminism, poverty, equality and the environment.
The typography within this chapbook lends itself to visual display and offers further potential to expand and unpack the headline themes. A worthy and promising collection.
— Review by Debbie Walsh
Copyright © 2017 by Isabelle Kenyon