Contingent on Altering Behaviors
by Channie Greenberg
Our existence, our health, our finances, our happiness, extras,
Remain contingent on altering behaviors, on remedying faults,
On watching sherbet melt on hot days, and on whistling Dixie.
Deviants grow so frustrated they kick family cats, break bottles,
Foolishly compete in business, contract unedited flow sessions,
Scrape gluey stickers with fingernails, amplify identity's insignia.
Generating ideas, like discerning among confusing/confounding
Questions, builds swimming pools, frames dwellings, legitimizes
Moods, corrects plus broadcasts new works for assorted decades.
Such stability relies on fluffy contract clauses, matutinal efforts,
Exhausted lawyers' unauthorized readings of Facebook minutiae,
Calculus, revisionary history, opera, a dearth of mutual syllables.

Some days, the number of hours devoted to retooling bits slotted
For transmission obfuscates stuff further, creates lake ignorance,
Exercises teeth, claws, prehensile tails, equally limits arboretums.
Certain delineations of ethics, akin to "continuous change," cull
Architecturally recorded visions, signal greater humankind, give
Little notice to verities exponentially huger than postal addresses.
Only if reimbursed for reasonable travel, lodging, meal expenses,
Do persons help with small mittens, tiny boots. Elsewise, targets
Get drawn on gatekeepers' never-ending requirements for profits.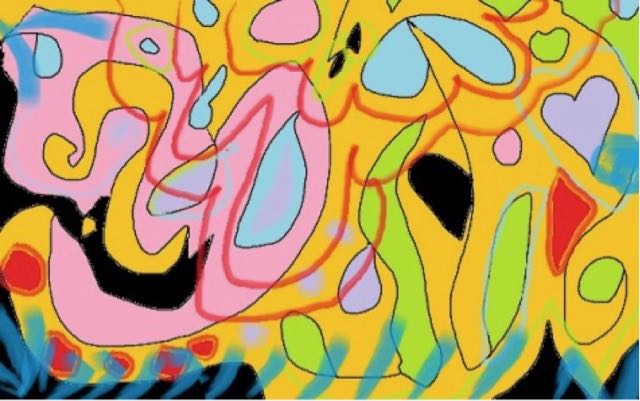 Altering Behaviors
by Channie Greenberg
Poetry and artwork copyright © 2018 by Channie Greenberg