Tosca Lee, The Progeny;
The Firstborn
reviewed by Alison McBain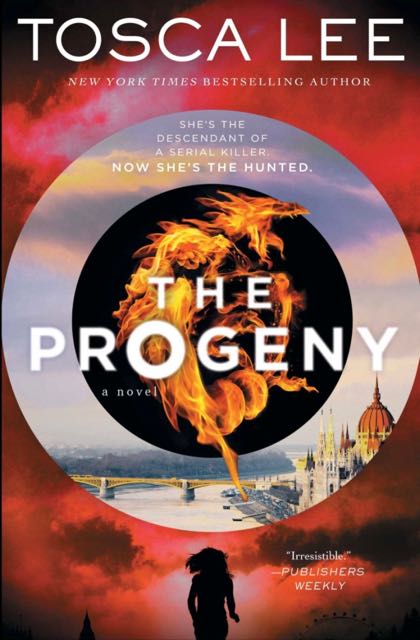 The Progeny

Author: Tosca Lee
Publisher: Howard Books
Date: March 7, 2017
Length: 352 pages
ISBN: 150112594X; 9781501125942
---
The Firstborn

Author: Tosca Lee
Publisher: Howard Books
Date: March 20, 2018
Length: 336 pages
ISBN: 1501139258; 9781501139253
Why would a twenty-one year old erase the memories of everyone she knew? That is the question facing Emily Porter when she wakes up in a cabin by Moosehead Lake in Maine, with no memory of the people who inhabited her former life. All she knows is she's undergone an elective procedure to erase her memory, and that she is supposed to leave the past alone and try to begin a new life as a new person.
So begins Tosca Lee's novel The Progeny. The reader has as many questions as the main character, and the mystery just progresses from there when Emily meets an interesting and intense man in the small, local grocery, whose name is Luka Novak. She finds him very attractive, and is surprised when he asks her out. There's something about him that she finds disconcerting.
But that's not the only thing that's troubling about her new life. She starts to have odd periods of time where she wakes up with no memory of what she's done, and only bits and pieces of evidence that she's acted in strange ways while asleep or blacked out. In addition, she starts to find clues that someone has left her from her former life, clues that begin to take her on a wild chase that will lead her across Europe, across centuries of history, and leave her stuck between two ages-old factions intent on destroying each other.
Only a month after her surgery, Emily finds out that her name isn't Emily at all. She is or was Audra Ellison. She's a descendent of Elizabeth Bathory, also known as the Blood Countess. Bathory was one of the most fearsome female serial killers of all time. Bathory's descendants are known as the Progeny, and they possess special powers of persuasion and compulsion that have allowed them to survive through the decades. The reason they are so focused on survival is that they are hunted by the descendants of Bathory's victims, who have banded together under an organization called the Scions of the Dispossessed. The Scions also have a power, which is to be able to harvest the memories of their victims. Thus, for each Progeny they kill, they find more victims to hunt.
But Emily/Audra is not alone, and help comes from the most unexpected places, including from herself from before her surgery. But all the while she's on the run from different forces trying to capture and/or destroy her, she doesn't know who to trust, herself and her fragmented memory least of all.
The Progeny ends with a bang and gives the reader the reason why Audra has gone to such lengths to erase her memory. While the reader might guess there was more to Audra's story, the revelation at the end, I believe, will come across as a surprise to many.
The adventure carries on in Lee's continuation of the series, called Firstborn, which takes up right where The Progeny ends, and it follows Audra as she attempts the impossible: to end the feud between Progeny and Scions, and erase the corruption at the heart of each group. It's a nonstop adventure from the first page to the last, and another book that is nearly impossible to put down.
It's been a while since there's been a book that kept me up all night, let alone two in a series. The books start with a mystery and the adventure builds from there with car chases, shootouts, murder, intrigue, betrayal, and magic. While there are several things that remain unexplained and don't necessarily need to be explained — this series is along the lines of Dan Brown's The Da Vinci Code — there's a high level of detail about the locations the characters pass through, and the way the magic in the world has been created and the way it works.
There are specific rules that even the wielders of great powers must follow or pay the consequences, and the consequences end up being quite severe in some cases. Death doesn't end up being a release from being hunted, but only the beginning of a greater nightmare for the Progeny, since hunters can harvest the memories of the Progeny and kill those they love the most.
I would definitely recommend this series for any reader looking for an intense and gripping read, with likable characters and an edge-of-your-seat ride from the first page to the last. I'm looking forward to reading book three! I hope you enjoy this series as much as I have.
Copyright © 2018 by Alison McBain