Book Review:
The Dragon Quintet edited by Marvin Kaye
Jerry Wright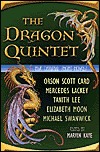 The Dragon Quintet
Editor: Marvin Kaye
Publisher:Tor Books
Hardcover:April 2004
Paperback:
Length:304pp
ISBN: 076531035X
Price:$24.95
This is a rara avis. The Dragon Quintet was originally created as an exclusive for the members of the Science Fiction Book Club. But it was evidently SO popular that TOR bought it and has now released it with a handsome new cover and price. I for one am glad. The Dragon Quintet is composed of five "short novels" about dragons. Sort of.
The closest thing to a standard dragon-tale in this book is Mercedes Lackey's "Joust", which by the way has been expanded marvelously by Lackey into a full fledged novel which ends where the short novel ends, but with room for several more sequelae should sales do well. Will they? Well, it IS Mercedes Lackey, after all. The story? Well Vetch is a serf (not a slave as some reviewers seem to think) who leaves a miserable existence to care for a special dragon belonging to a special warrior. The story is properly detailed, and you will enjoy the novelette, and look for the full -length version.
Okay, what about the others?
The book actually starts out with a novelette (or novella, but who's keeping track?) by Orson Scott Card called "In The Dragon's House". Sort of a gothicky thing, although the protagonist is a modern-day boy who dreams of a dragon, only to learn that there is a dragon in the house, or the wiring. This too will be expanded to a novel, I understand.
Elizabeth Moon writes a story of the "Judgement" of Dragons, wherein we learn that dragon eggs are not lightly dealt with, that not all geodes are created equal, and that dragonish behaviour can really warp your father-in-law-to-be. A really fun story, and again, not anywhere near a "typical" dragon story.
"Love In The Time Of Dragons" is the only "erotic" story, in among PG rated stuff, bringing the book to a PG-13 rating, which considering it's by Tanith Lee, means she toned it down--but not much. It is the tale of a brutalized and sexually abused servant girl who becomes a dragon-wyfe. Really well written.
The book ends with Michael Swanwick's "King Dragon", somewhat of a take on "King Log, King Stork". Swanwick's 20th century style part-mechanical dragons and frightened peasantry form a chillingly dark story of evil and slavery.
All in all, this book is a collection of really good stories, but not your run-of-the-mill dragontales. In the Afterword Kaye also recommends dragonish films, novels and websites. Very good stories, and I can see why Tor bought it.