Bewildering Stories'
Annual Review, 2012
The Mariner Awards: issues 460-507
"The place to be at Bewildering Stories"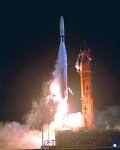 The launch of Mariner 2
to Venus, August 27, 1962
The Mariner Awards are named for one of the first successful interplanetary missions. The titles listed — out of 397 for the year — are the
crème de la crème
, the ones that the Review Board and Managing Editor have rated "very good" or "excellent" in 2012. They have earned
Bewildering Stories'
most signal honor.
We know that all readers can cite titles they feel belong on these lists; fair enough. But we are also confident you'll find none you would omit.
Like the Quarterly Reviews, the Annual Review is divided into genres with titles listed alphabetically by author and multiple titles in chronological order. Titles all in italics represent either serialized works with chapter titles or collections of poems in which more than two titles qualified. The Departments remain in the Quarterly Reviews.
As we like to say, "There is no story so truly bewildering as reality." The Crew of Bewildering Stories wishes our contributors and readers a most pleasantly bewildering New Year!
Everything in green is a link. Links open in a new window, so you won't lose your place.
Novels

Michael E. Lloyd, Missing Emilie

Serials

Roland Allnach, Conquest's End
E. L. Skip Knox, The Roadmaster
Maria Kontak, A Very Convenient Affair

Flash Fiction

Angel Zapata, Carrion Folk

Essays

James Graham, Anent the Scots Leid...

Poetry & Short Poetry

David Adès, The Three Moons of Tenoa
Bill Bowler, Out of the Fog
Cristina Del Canto, Caracas
Mike Florian, Albatross
Billy Harfosh, Monsoon Rains
Rebecca Lu Kiernan What Will I Do When I'm Dead?
John Stocks Cristina-Monica Moldoveanu My Balcony Garden
Gloria F. Watts, Forgotten Memories

Short Stories


David Adès, In the Land of Maybe
Shai Afsai, The Shomer
Edward Ahern Packing for the Moon
David Barber, Memories of the Ice Age
Bryan Carrigan, Lucy IV-M35
Noel Denvir, Always, Anna
Shelly Evans, Dead Horses
Bertil Falk, Blue Night, Blue City
Mike Florian Interference Patterns
Harry Lang, Mr. Butterfly
Arthur Mackeown, The Yellow Road
Bruce Memblatt, Dikon's Light
Victor F. R. Ocampo, Synchronicity
Bolaji Odofin, Clocks
Mia Tijam, Talking to Juanito
Joanna M. Weston, After the Fire
The Quarterly Reviews of 2012
First Quarterly Review — issues 460-471
Second Quarterly Review — issues 472-483
Third Quarterly Review — issues 484-495
Fourth Quarterly Review — issues 496-507
The place to be at Bewildering Stories
The Annual Reviews, Quarterly Reviews, and Semi-Annual Retrospectives
Available at Bewildering Press
Jack Alcott, Grim Legion
Sam Ivey, Gilboy's Quest
Martin Kerharo, The Dohani War
Harry Lang, The Mountains of the Eldritch Sea
Danielle L. Parker, In a Pig's Eye
Slawomir Rapala, Aezubah, the Crimson General
Bertrand Cayzac, Floozman in Space
Michael E. Lloyd, Donna's Men
Michael E. Lloyd, Missing Emilie
Michael E. Lloyd, Observation One
Michael E. Lloyd, Observation Two
Michael E. Lloyd, Observation Three

Return to top
Go to issue 507
Go to the All Issues index
Go to the Schedule "In Times to Come"
Copyright © December 31, 2012 by Bewildering Stories