Book Review:
Sharon Lee and Steve Miller's Plan B
Jerry Wright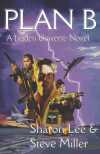 Plan B
Author: Sharon Lee and Steve Miller
Publishers: Meisha-Merlin Press and Ace Books
Ppb: April 2003
Length: 336 pp
ISBN: 0441010539
Price: $6.99
Every once in a while, I would run into some sort of comment about Sharon Lee and Steve Miller, and their creation -- the Liaden Universe. I'd never read anything by them, and actually never seen anything by them. And then, all of a sudden, I have TWO Lee and Miller books fall into my lap, as it were.
The two books are Plan B and The Tomorrow Log, and just because I'm a contrarian, I'm going to review Plan B, which is Book 6 in a series (Liaden) rather than The Tomorrow Log, which is obviously Book One in a new series (not Liaden), and stands well by itself.
Book SIX did I say? Yes. And this book came out in Trade Paper in 1999 from an outfit called Meisha Merlin of whom I know nothing. It obviously sold quite well because Ace picked up the mass market rights and published it in April of last year. What is really odd is that there is a 10 year hiatus between Book Five (Carpe Diem) which ended in a cliffhanger, and Plan B which continues the action of Val Con yos' Phelium (a Liad) and his half-human, half-Liaden lifemate Miri Robertson, a retired Mercenary Sergeant.
Is the story readable by itself? Oh yeah, certainly. I started knowing nothing of the Liaden Universe, and now I know enough to know that I have to get the rest of the books. Yeah, they're that good. I am reminded of Lois McMaster Bujold and Catherine Asaro, and of course these "Space Opera" books are well-dolloped with Romance. That's okay, properly done, it adds joy to adventure.
The story is what could have been a confusing hugger-mugger of conflicting loyalties, plots, invasions, attacks, treachery and all kinds of other things, but Lee and Miller actually are able to maintain a clear thread that I was able to follow, even knowing nothing of "what had gone before". There are complexities of Liaden custom and technical background that are not delved into particularly deeply, but are obviously deeply embedded in this book, and I understand that in earlier books we get a great understanding of Liaden Custom, as this universe is quite thoroughly realized. To give you an idea of "what the book is about" I give you this quote from the Liaden website:
Pursued across space by the ultra-secret Department of the Interior, hunted by the galaxy-wide Juntavas syndicate, former Agent of Change Val Con yos' Phelium and his ex-soldier lifemate Miri Robertson have commandeered the only spaceship on Vandar and fled, seeking help from Miri's newly discovered kin on Lytaxin.

Elsewhere, Clan Korval is in action. Scattered across space by the newly invoked Plan B, certain clan members pursue the search for the long-missing Val Con. First Speaker Nova yos'Galan returns to Lufkit, seeking clues, as Dutiful Passage, Korval's premier tradeship, arms itself for war – and discovers treachery.

Back on Lytaxin, Miri's homecoming is interrupted by a full-scale Yxtrang planetary invasion.
My recommendation is find books by Lee and Miller. If you like Bujold, Asaro, or Lackey, you'll like these.
Copyright © 2004 by Jerry Wright and Bewildering Stories