Book Review:
Thoraiya Bouseleh, Red Soul, Green Soul
by Jerry Wright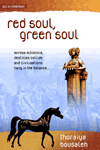 Red Soul, Green Soul
Author: Thoraiya Bouseleh
Publisher: Sidharta Publishers
Trade Paperback: 432 pages
ISBN: 1-921030-06-2
Price: $24.95 (AU$)
One of the interesting things about being a reviewer with a bit of notoriety is that people send you books. I just got a call from Fedex saying that they accidently put a package from Random House on the wrong truck and would it be okay if they delivered it on Monday. No problem, I told them. Wow! Books. Falling out of the sky, as it were. And for some reason, a little publishing company out of Australia sent me a "Sci-Fi/Fantasy" book to review called Red Soul, Green Soul.
The blurb on the back sounded a bit interesting, about a girl no-one can see in a world where science has been able to see into "the soul", the record of past lives, and determine if that person is inherently violent, or will only use violence when forced into it; a red soul, or a green soul.
Even though I found the premise highly unlikely, the story was well-written, and the character of the protagonist, Faith, was interesting and seemed real. The novel takes place more than a century into the future, but thanks to a series of natural disasters, an earthquake storm, the world hasn't advanced much beyond our day. Faith, branded a "risk" because of her red soul for some reason can't be seen by people, although cameras and animals don't seem to have that problem. Because of this ability, an unscrupulous military man blackmails Faith into trying to infiltrate a prison in what used to be the Middle East.
It's there that the story begins its move into Fantasy, as Faith starts having visions of an earlier life as a Sidonian horse trainer forced to help the Assyrian Empire of Sargon. The sections of the story dealing with life under the Assyrian tyranny seem to be well researched and very realistic, and personalities of Faith and her precursor named Astarte are quite different. Which only makes sense when you think of how their lives have differed.
Anyway, it was a pleasant read, and surprisingly well done for a first novel. And you will never guess why Faith has become invisible. I didn't. I'll be looking for more from Ms. Bouseleh.