Book Review:
Neal Asher, Gridlinked
by Jerry Wright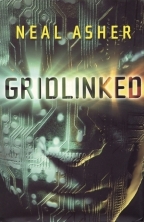 Gridlinked
Author: Neal Asher
Publisher: Tor
Hardcover: 448 pages
ISBN: 0-765-30735-9
Price: $25.95
Tor has been picking up a number of SF novels that were first published in the UK, and giving them an American debut. And in doing so, we here in the US are blessed by getting access to some really good books. Neal Asher's Gridlinked is a case in point.
The universe of this book (and others by Mr. Asher) is connected by "Runcibles" (based on the Owl and the Pussycat poem by Edward Lear). Asher has a great time with the Artificial Intelligences who control the Runcibles as well as the "Polity", but he also has created cool fighting men-machines called Golems, the most vicious of which is "Mr. Crane". "Crane" because he is tall and thin, "Mr." because he is psychotic, and one would not want to be on his bad side.
The primary character is Cormac, who has been linked to the computer grid (in other words "gridlinked") for 3 decades. After 20 years, one begins to lose one's humanity, and this is happening to super agent Ian Cormac. Imagine James Bond in the 25th Century. Unfortunately, what we find of Cormac in Gridlinked doesn't come near to fulfilling all the hype that is mentioned in the various news articles and book excerpts that try to add our understanding of the milieu of the Gridlinked universe. And the sense of disconnect that Cormac should feel just doesn't come through. He just sort of shrugs his shoulders and soldiers on.
That having been said, this is an enjoyable book. Quite unnecessarily heavy on the foul language, but that's just MY idiosyncracy. We find the answers to the mystery of why a Runcible blew up, wiping out a planet, and who, or what is behind the explosion, and is feeding information to Cormac's enemy, a terrorist who was left alive after Cormac killed his sister (also a terrorist), and whose descent into madness is very well delineated.
Lotsa space battles, violence, and derring-do, and when you read this you will be motivated to find more books by Mr. Asher.
Copyright &copy 2005 by Jerry Wright and Bewildering Stories